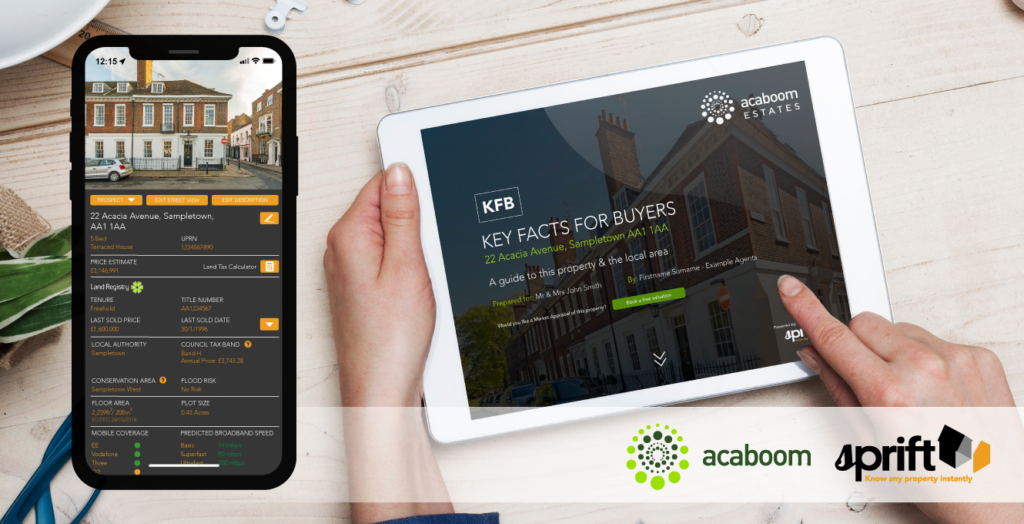 Agency Demand Sees Sprift and Acaboom Join Forces
Estate agency market appraisal toolkit provider, Acaboom, and property data specialist, Sprift, have joined forces following huge industry demand. The integration creates an attractive marketing tool, incorporating unrivalled data.
Acaboom offers UK estate and letting agents digital, interactive presentations, tools and proposals which can be used before, during and after the market appraisal, whilst Sprift offers the most comprehensive source of data on UK properties. The new integration seeks to improve the experience for both time pressed agents and prospective vendors, with a digital platform that incorporates trusted data.
Charlie Perdios, Managing Director of Anthony Pepe, who has been trialling the integrated platform, comments: "The combination of both Acaboom's presentations and Sprift data creates a really powerful marketing tool which is no doubt going to help us win instructions. The businesses really complement each other so I am delighted that they have come together – this really takes our valuation tools to another level."
Brian Farrell, MD of Acaboom, adds: "We are very proud of the tangible value Acaboom already delivers to its clients but the integration with Sprift, with its impressive suite of property data being amalgamated into personalised client presentations, takes things to a new level and is a huge win for mutual clients."
Matt Gilpin, CEO of Sprift, adds: "An integration with Acaboom was a reaction to mutual and strong client demand, delivering yet another way to benefit from the service. The customer journey is key, and from the outset, agents using both platforms will be one step ahead. The combination of professionally presented information together with comprehensive data provides agents a true competitive edge."