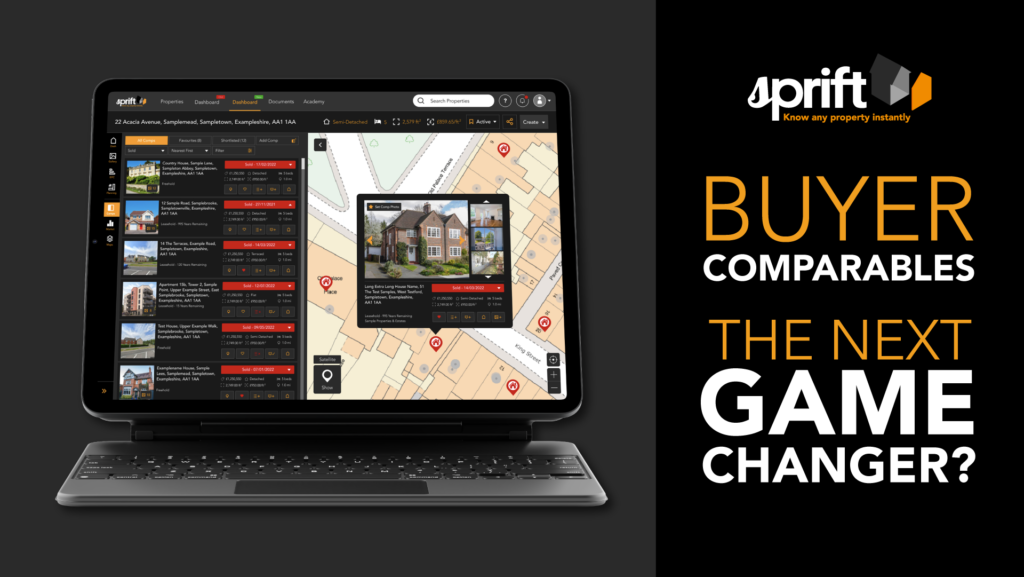 Buyer comparables…the next game changer? 
Using comparables to support your valuation when you're out on a market appraisal to help you win the listing is nothing new, obviously.
But the currently shifting market now means that changing up the way you use the comparables that all of our customers have access to could be the key to agreeing more deals, in what's now fast-becoming a buyers' market.
How? Well, with the mainstream media now reporting that house prices are 'likely' to reduce by around 10 per cent soon due to the current macro-economic headwinds, many buyers are confused, with some thinking and verbalising to their agent: "Does the current marketing price allow for the reduction in prices that are all over the media, or not?"
Solve this quickly by spending a few minutes prepping before that viewing by running off comparables from the Sprift platform. You can even manually add properties that have exchanged but not yet completed or even add custom notes to properties to highlight your expert local knowledge.
This then means you can easily support the marketing price in your conversation with the buyer, who can then also supply those same comparables to their mortgage broker or lender to help with their mortgage application.
Just a few minutes of preparation can make all the difference to both your conversion rates and your pipeline.
Want to find out more? Book onto a free webinar run by our expert Customer Success team to learn how to produce compelling buyer comps.