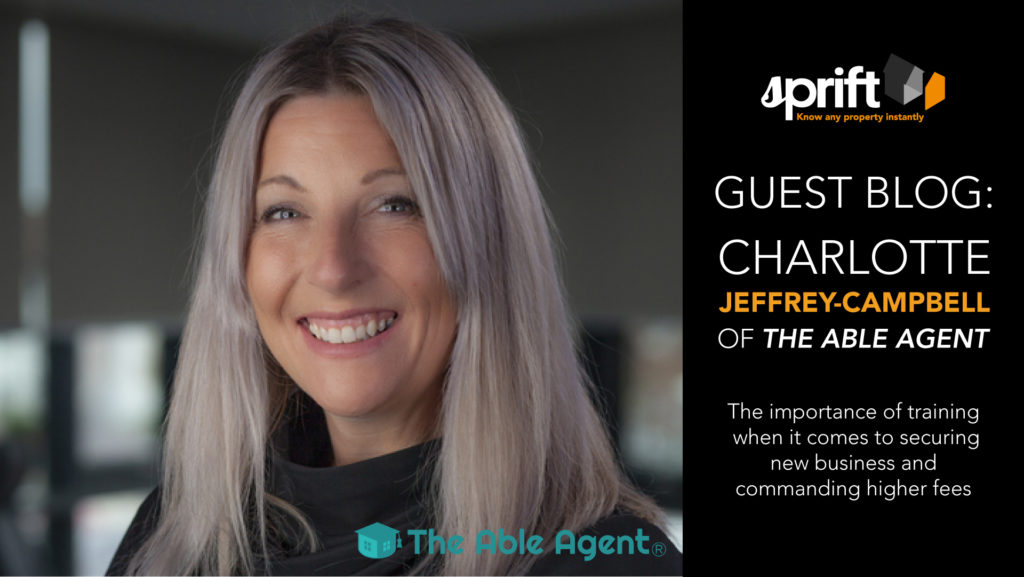 Guest Blog: Charlotte Jeffrey-Campbell of the Able Agent
The importance of training when it comes to securing new business and commanding higher fees
The founding of The Able Agent
Charlotte Jeffrey-Campbell is co-founder and director of The Able Agent, an e-learning platform that offers comprehensive online training and qualifications for estate and letting agents across every aspect of their businesses.
Since Charlotte was thrown into the property industry following a chance meeting at a party in 1994, she has experienced nearly every side of the sector throughout her hugely varied career. From negotiator and diverse roles within estate agency, to property manager with 1000 properties on her books, to being headhunted into CRM software sales, to independent trainer, she has really 'seen it all'.
A passion for training
As Charlotte progressed her career she realised not only her passion for training, but also how critical good training, qualifications and resources are for individual agents, as well as agencies. She comments:
"The key thing I picked up across all my decades of experience was the importance of training. It's not easy to develop or maintain good, up-to-date training structures. It can also be hard to do the training itself, and managers aren't necessarily trained to train, or just aren't given the time or resources in order to do it properly. However, without good training the company is at risk of not being compliant with the law, and receiving huge fines. Additionally, agents cannot do their job well, or achieve their full potential without access to quality information, whether that be in the form of property data, or legal knowledge about regulations. I realised that e-learning and quality online resources were extremely necessary, as it makes it possible to have good training, accessible to all, from anywhere."
Best-practice training
The Able Agent claims to furnish agents with all the knowledge they need, from sales skills, negotiations, and property management, to legal guidance, regulation compliance and workplace wellbeing are broken down into modules. Within each module are courses that deal with a variety of important topics, and videos, e-books and quizzes that break down complicated, crucial and interesting information into bite-size chunks. Each course has a quiz, which are essentially mock papers that can prepare users for the Level 3 CePAP qualification, if they want to take it. Specialised knowledge in fields, such as sales progression, are then provided to enable agents to move into areas that particularly interest them.
The Able Agent is a flexible tool that is designed to meet the needs of agencies, as well as support diversity in learning. Charlotte explains:
"We all learn differently, and good training involves providing information in different ways that facilitates everyone being able to engage with, and absorb, the material. I firmly believe most agents are experts who know a lot. But the feedback we often have is that 'The Able Agent helped me recognise how much I know, but also I realised how much I don't know'. This is what it's all about – empowering agents to feel confident in their knowledge, meanwhile developing new skills and awareness."
Information-empowered agents
Agents need to be empowered with information, this includes property data, as well as regulation and skills training and knowledge. Clients now expect far more information, even before viewings and because of the rise in accessible data, there is less excuse for missing a lead or spotting a potential issue. Clients want to know all the details and they need good agents to guide them and to furnish them with relevant data and expert advice.
Data and upfront information have huge benefits – for agencies in improving compliance and meeting regulation, for agents in developing confidence and speeding up processes, and also for clients in being able to have a better experience in the letting or sales search and transaction.
Charlotte explains: "Nurturing clients is what makes you stand out as an agent, and this is truly possible today with proper data and training. Educated, confident agents will facilitate an easier, faster and smoother moving process for all, and this also means more cash for the agency because sales progression is more effective. Agents should be charging good fees, but for good service. In order to provide this service, they need to be on the ball with in-depth knowledge specialised to the clients situation in their minds and data at their fingertips."
The industry is shifting
There is a seismic shift happening in the external perception and internal outlook of the industry. Improved standards and professionalism are becoming the norm, and there is talk of widespread industry regulation being introduced in the future. Alongside this, the recruitment crisis is bringing in a new breed of staff who are hungry for progression and education.
"The industry must embrace and support the new joiners with proper training. Jumping onto a platform to learn and get started will become the norm and is a structured system that builds stronger, more consistent foundations. We also need to engage with existing staff and give them what they need and want, as people will leave jobs if they feel like they are failing or become disengaged.
"Regulation may be contentious, but it's likely it will help the property sector, particularly if it involves agents being obligated to provide upfront information, although this needs to be enforced and have value. Property can be a fantastic career for life. I love this industry, I love training, and it's really exciting to be a part of the changes that are happening. At The Able Agent we are continually developing content that meets the needs of the industry as it evolves and moves forward.