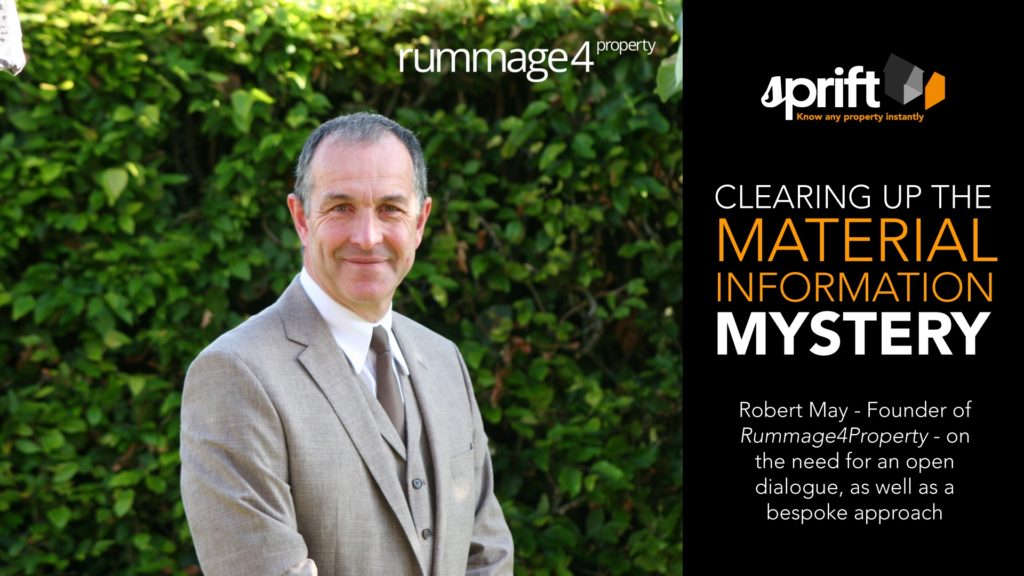 Clearing Up the 'Material Information' Mystery
by Robert May,

founder at

Rummage 4Property
Consumer Protection from Unfair Trading Regulations (CPR) was introduced in 2008, replacing the Property Mis-descriptions Act. Yet, even today, vagueness and misunderstanding around what constitutes 'material information' around property prevails.
The impact of these misunderstandings can have far-reaching consequences for all parties in a property transaction. Additionally, even if unintentional, where information has been misinterpreted or is deemed to be 'misleading', it can erode the trust and reputation of those who work in property.
Estate agents are obligated to provide upfront 'material information', and consumers have a right to it, but many argue that there is a need to police this more, and to ensure that all details are provided right from the very outset. Even before a potential purchaser goes to view a property.
Consumer rights 
What constitutes 'material information' continues to evolve. From the basic material facts about a property, including the number of bathrooms, and the remaining appliances (on purchase), to other facts, such as broadband speeds, planning application details, and local school data. There are a huge range of details buyers (and renters),need to be made aware of.
There are other nuances when it comes to material information, such as complicated leaseholds, which have in recent times been brought into sharp focus. We can also refer to when agents began using wide–angle photography in property particulars. In this particular instance, consumers were often frustrated when arriving at the location, finding that the property was not so gloriously spacious. Today there is more awareness around this type of photography, but it's important to flag that consumers should not be misled – in any way.
Solving the mystery of material information
The first step towards solving this problem is ensuring accurate material information is always provided at the point of instruction. There should be an onus placed around contract-ready viewings (from both sides), to support the speed of sale. There are time and financial costs for a visit to any property. Especially for those with limited budgets or demanding jobs, it's critical they are not made to waste time and money visiting unsuitable properties, no one wants to spend money on fuel driving to a property to find the images or details you were originally given are misleading or incorrect. Correct and proper material information should always be provided at the earliest point, so interested parties can make informed decisions.
Agents can support this by finding out as much as possible as soon as they win the instruction. In fact, I believe that it should be made mandatory to give clients access to material information in a digital format. With the TA6 and PIQ forms, this is achievable. There is no obligation for this, and I'd argue that the best way to achieve compliance would be where we have a redress scheme.
A bespoke approach is needed
Innovation is at the core of improving access to material information, and I believe that agents should be placing themselves at the centre of what should be a bespoke approach. By doing so standards will be raised in what will become an even more competitive market. 
This bespoke approach is the best way for us to innovate and ensure that material information is effectively provided in every instruction. All the key legal factors, as well as preferences and understanding what puts individual people off or attracts them to a property. There should be a core list of information that is established, and this should always be available. But other material information needs to vary from purchaser to purchaser according to their needs and tastes. The public right of way may suit someone hoping to open up a café or shop on the site, but not a family that needs real peace and quiet. It's all about the data and ensuring that there is as much information up front.
Contract ready properties – an open dialogue
Contract ready properties are doubtless lifting the number of conversions. Deemed a more professional approach, it demonstrates the seriousness of the sale. If applying for searches at the outset (from the moment a property goes live), then the marketing period of time will not be lost, which is ultimately what this is all about. An extended timescale for the sale will create greater opportunity for transaction fall through rates, which is something the industry needs to stamp out.