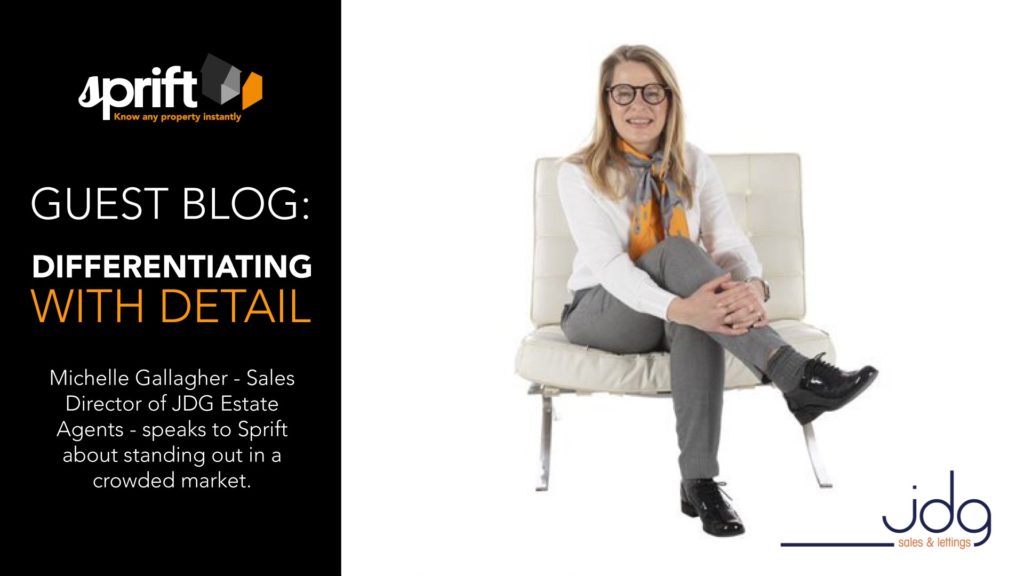 Differentiating With Detail

JD Gallagher Estate Agents
Based in Lancaster, JDG estate agency has been operating on the values of trust, ethics, and transparency since its founding in 1989. As a local agency with a team of 10 (and Boots the dog!), they pride themselves on their knowledge and understanding of the local market.
The agency offers property buying and letting services. When the pandemic began last year they adapted well, switching to virtual valuations and have executed this method of working successfully. The team has even found that clients are keen to continue in this way beyond Covid because it feels 'less pressured', and with the data from Sprift, valuations are easily substantiated.
Switching to Sprift 
At the beginning of 2021, JDG were using another platform, but had heard good feedback about Sprift. Michelle Gallagher, sales director at JDG, explains: "We were using a different data tool, but having heard great things about Sprift, we felt it would help interactions with clients. We decided to explore Sprift as an option to help us demonstrate and justify more clearly to clients our valuation – proving our thought process through accurate data."
As part of the consideration process before adopting Sprift, Michelle requested data reports on three properties she knew well, including her own home! She adds: "When I saw the example report on my house, I was quite surprised. I found myself discovering things about these properties I thought I knew really well. I was intrigued by the depth of the data, asking myself…how do they know that?"
Differentiating with data
JDG agents are now utilising Sprift data in a range of ways, including screen sharing the data platform during virtual viewings. Property brochures have been replaced with' Key Facts for Buyers', for which they use the tagline "be better informed." 
Combined with attractive property photos, these interactive reports have proved a valuable tool for winning instructions. Even after a house is under offer, reports are generating serious interest in the form of 'click throughs' from keen buyers. Michelle Gallagher explains: "The detail in the Sprift reports is unparalleled. When we were using other report generators before, they didn't offer anything like the depth or extent of data that is available via Sprift. The reports are really impressing buyers and sellers. It's a differentiator, with measurable value that has helped us win instructions."
One particular aspect of the platform that is proving useful is graphs displaying house prices for a specific postcode. The clear illustration of house price increases and factors in a local area is a really engaging tool for buyers and sellers.
Training for success
Regular contact between Sprift and JDG ensures the platform is utilised to its full potential, with the Sprift team checking in to see if everything is going smoothly and to remind them of the availability of the Sprift academy online training tool. 
As a growing company, JDG believes Sprift will play a part in their expansion. The new valuers they have recently brought on are already trained to use the Sprift platform, and there are plans to integrate the Sprift tool into the lettings side of the business in the near future.
View the full interview with Michelle here.