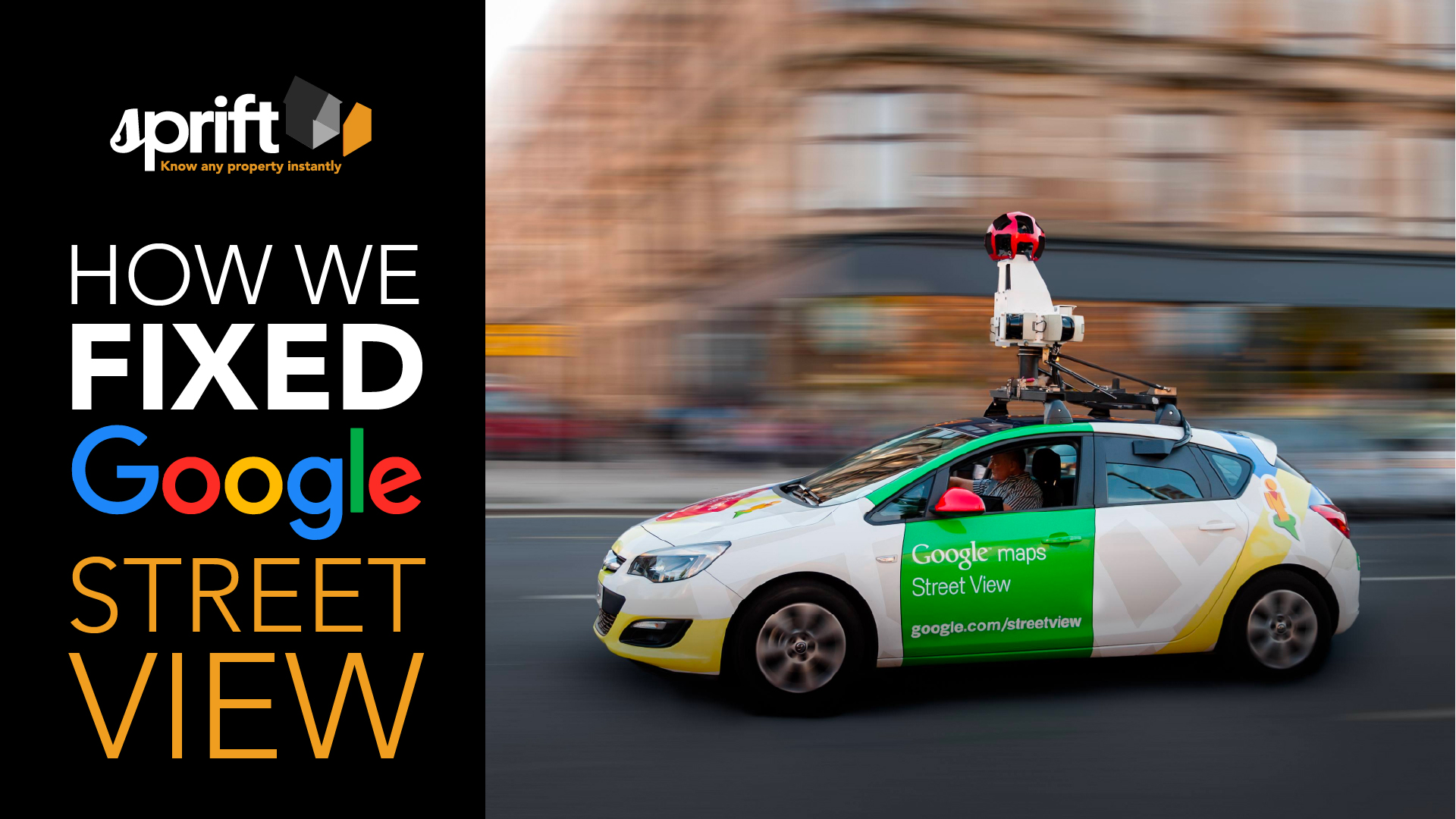 How We Fixed Google Street View
While we were researching the viability of the Sprift data platform, and how we could add value to the property market, we spoke to estate agents, landlords, developers plus many buyers and vendors.
Amongst the pain points we found in the property search and buying process, we discovered a surprisingly major sense of frustration with the Google Street View tool.
A Virtual Frustrating 35 minutes
The main issue seemed to be around the fact that the intial screen opens up either pointing at the wrong property or in the wrong direction. We've all been there on one of the main property listing websites including Rightmove and Zoopla, trying to manoeuvre the camera up and down the street and spinning round to the right angle
We worked out on average we spent 35 minutes a day virtually whizzing up and down the street, spinning the view this way and that, trying to magnify house numbers and comparing listing images to what's on the screen.
Let's face it sometimes it would be easier to do the search on foot! For agents and developers multiply that search time several times a day and it starts to stack up.
Reviewers Frustrations with Google Street View
"Very hard to get bearings on which way is 'up' when moving around…"
"Why isn't this easy?"
The Challenge Was On…
Don't be mistaken we think Street View is a fantastic tool and has made a huge difference to how potential buyers can view properties online (eventually). However we thought maybe we could make some improvements…and we like a challenge so set out to see if we could find a fix!
The Sprift Techno Wizards Deliver
Well it's taken us a while, but we're delighted to announce that we believe we've risen to that challenge and then some!
With a clever bit of techno-wizardry by the Sprift development team when you enter any postcode or address into the Sprift platform, not only will it bring up a uniquely in-depth property report, but the street view image will be of exactly the right house!
You haven't even got to the clever bit yet…!
That was a major success in itself but we didn't stop there, the best bit is that we've even managed to turn the camera to show the front or main feature of the property in question!
So now, and only when you are using the Sprift platform, you can be sure you are looking at exactly the right property from exactly the right angle – meaning you can use that 35 minutes saved to make a couple of extra calls to prospects!!
Making a Real Difference to Property Search & Service
We're particularly pleased about releasing this amazing new Sprift feature, after all it's not every day someone improves a major part of the Google empire!
However, this mini-project is not just a nice to have play thing. In practical terms we believe it really will make a difference to how our clients can interact with a fantastic integration tool and save them time they can use to focus elsewhere.
Take the new Street View for a Test Drive…
If you'd like to test the all new Google Street View for yourself please email us here and we'll set it up for you to give it a try.