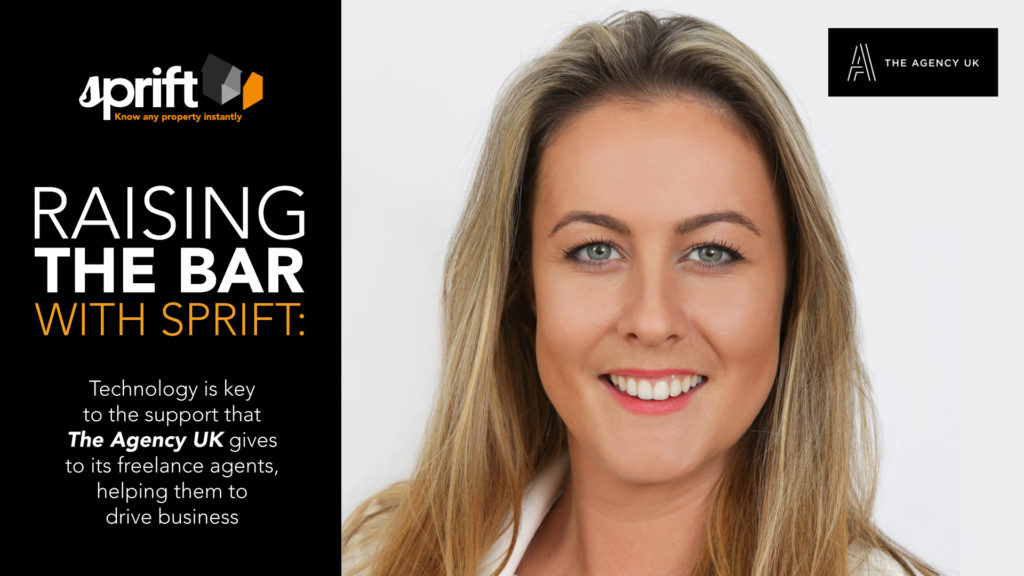 Raising the bar with Sprift
Technology helps The Agency UK's freelance agents to drive business
About The Agency UK
The Agency UK is a new, cloud-based estate agency already making a big impact by reflecting elements of the US and Australian approach to build a unique British self-employed real estate model. Their experienced freelance partners, have the best knowledge of the local market, and get the full support of The Agency's UK's professional and technological backing. Working with The Agency UK, self-employed agents are provided with marketing administration, back-office management, access to Sprift and so much more.
Steph Walker, operations director and co-founder of The Agency UK, comments on their approach: "Our aim is to empower agents, financially and operationally, and facilitate them to exceed client expectations and deliver an outstanding selling experience. They can be independent and focus on the aspects of the profession they love, instead of stressing about managing teams or the general day-to-day in-agency problems.
"Our agent partners also earn the bulk of the commission from the properties they sell. This means that they earn substantially more from each transaction, allowing them to have a tight, select group of clients. It enables them to deliver fantastic, personal service and enjoy the ability to maintain and build rewarding client relationships."
Supporting partnerships with best-of-breed tech
Since their full launch in January 2021, The Agency UK agents have been racking up a series of exceptional 5-star reviews on Trustpilot and other platforms. Its freelance agents use a combination of traditional networking and technology, to consolidate their pipeline, as well as improve the property buying and selling experience. Sprift is now playing a significant part in driving business, particularly through the use of Key Facts for Buyers, in lieu of traditional property brochures.
Steph elaborates: "From a client perspective, the Sprift Key Facts for Buyers represent a whole new era. The information a buyer wants to know is shifting and expanding. Sprift data gives all the details that are important for clients, including broadband speeds, mobile coverage, council tax bands and more. It's more meaningful and useful and demonstrates to both buyers and sellers that their agent has the ability to work with their best interests in mind at all times."
Giving good, transparent data to prospective buyers allows agents to quickly identify better quality buyers and set up viewings with real potential. Key Facts for Buyers mean everyone has the information to make better decisions before in-person viewings.
The Agency UK believes that technology improves not only the agent-buyer relationship, but also the agent-agency relationship. Technology is key to the support The Agency UK gives to its agents and ensures it delivers the best for them. Before the launch Steph Walker reviewed all offerings similar to Sprift and assessed many PropTech platforms to ensure partnered estate agents would have the best tools at their disposal.
"With Sprift there is incredibly detailed and rich data at your fingertips within seconds," comments Steph. "I was an agent for over 18 years, and Sprift is exactly what I would have loved to have access to during my days selling. Sprift amplifies and simplifies many processes and elements of what we do at the touch of a button.
"The data expands into the demographics of an area and the types of properties in each region. This saves our agents a lot of time on their 'homework', and adds to their already extensive knowledge – giving them an edge."
Improving relationships for future success
Gary MacDonald, The Agency UK's account manager at Sprift, comments: "It's great hearing from the agencies, as we use this valuable feedback to enhance our offering".
"We're really excited to see how The Agency UK has taken a new approach to estate agency with the freelance model, and delighted to be playing a part in their success and growth."
Steph adds: "Supplier relationships in this industry have come into their own in these last couple of years. More and more I think we are realising that working together as agents and suppliers we can raise the bar for our partnerships in every direction.
"We work closely with Gary, he's always there for us to answer any query, fix any problems quickly, and listen to our feedback. We're looking forward to the journey ahead with Sprift, and it sounds like they have some great product ideas in the pipeline to be launched, which we can't wait to introduce to our agents."
As the year-end approaches, The Agency UK is expecting a busy Autumn, with new agents joining at the end of the year it is ready to deliver true agency to partnered agents and set them up for success in 2022.