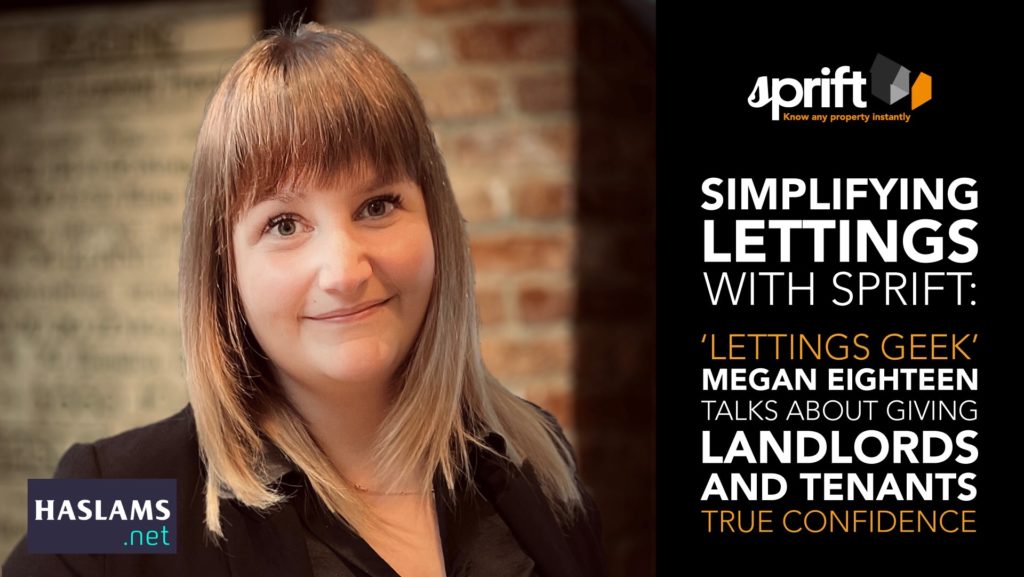 Simplifying lettings with Sprift
Megan Eighteen talks about giving landlords and tenants true confidence
Megan Eighteen is Business Development Manager at Haslams Estate Agents & Regional Executive for Oxfordshire & Berkshire at ARLA Propertymark.
She has worked with Haslams since late 2021, but has a huge track record in lettings, which includes looking after some huge portfolios. 
Megan claims to be a 'lettings geek', having achieved the highest level of qualification (Level 4 Residential Letting & Property Management). She is also the ARLA Propertymark regional representative for Oxfordshire and Berkshire – acting as a conduit between members and Propertymark. She comments: 
"I represent the landlords in the region, attending all Policy communications meetings and running regional meetings. I am lettings through and through."
Time for industry regulation and taking a positive industry stance 
Megan believes that the time for industry regulation is upon us. She adds: 
"This would ensure we are all working on a level playing field, and that people would view our industry in a more positive way."
Sprift for lettings – helping to avoid the voids
Megan has been using the Sprift lettings platform since May 2020. 
"I am all for anything that simplifies my life" she comments. "Sprift data makes my preparation work far easier, because I can demonstrate a really deep understanding of the property in question, and the level of detail around it. When I come to let properties virtually, it also looks super cool – it shows you have done lots of thorough research."
She claims Sprift helps to opens other doors when talking to landlords, for example when they have other properties in their portfolio. 
"I like to work with investors on both the sales and lettings side. I use Sprift Key Facts for Buyer reports to demonstrate the value of their property, and all it can offer. It also shows this group that I am investing my time into them, and used initiative. 
"The tenants report is very impressive, but it is all about how you use it. For example, we have had a recent huge uptake from people coming from abroad. The report (given to them before they arrive), which gives comprehensive details on the property, as well as local area information, gives the tenant confidence in what they are committing to. The reports also cut out a lot of questions, for example around areas such as broadband, or schools in the local area."
Data to unify brands 
Megan adds: "We're actively encouraging the use of Sprift across the other branches in the Haslam Group, and we believe that from a business point of view it will really help to unify the brands." 
Amy Shields, Business Development Manager at Sprift, comments: "It's so positive to see Haslams using the Sprift data to really enhance and improve their lettings offering. 
"The product is already helping Megan Eighteen and her team to provide the best possible lettings experience. We have so many plans and intentions for 2022, it's so exciting to see where this will all go in the year ahead." 
Watch the full interview with Megan here.