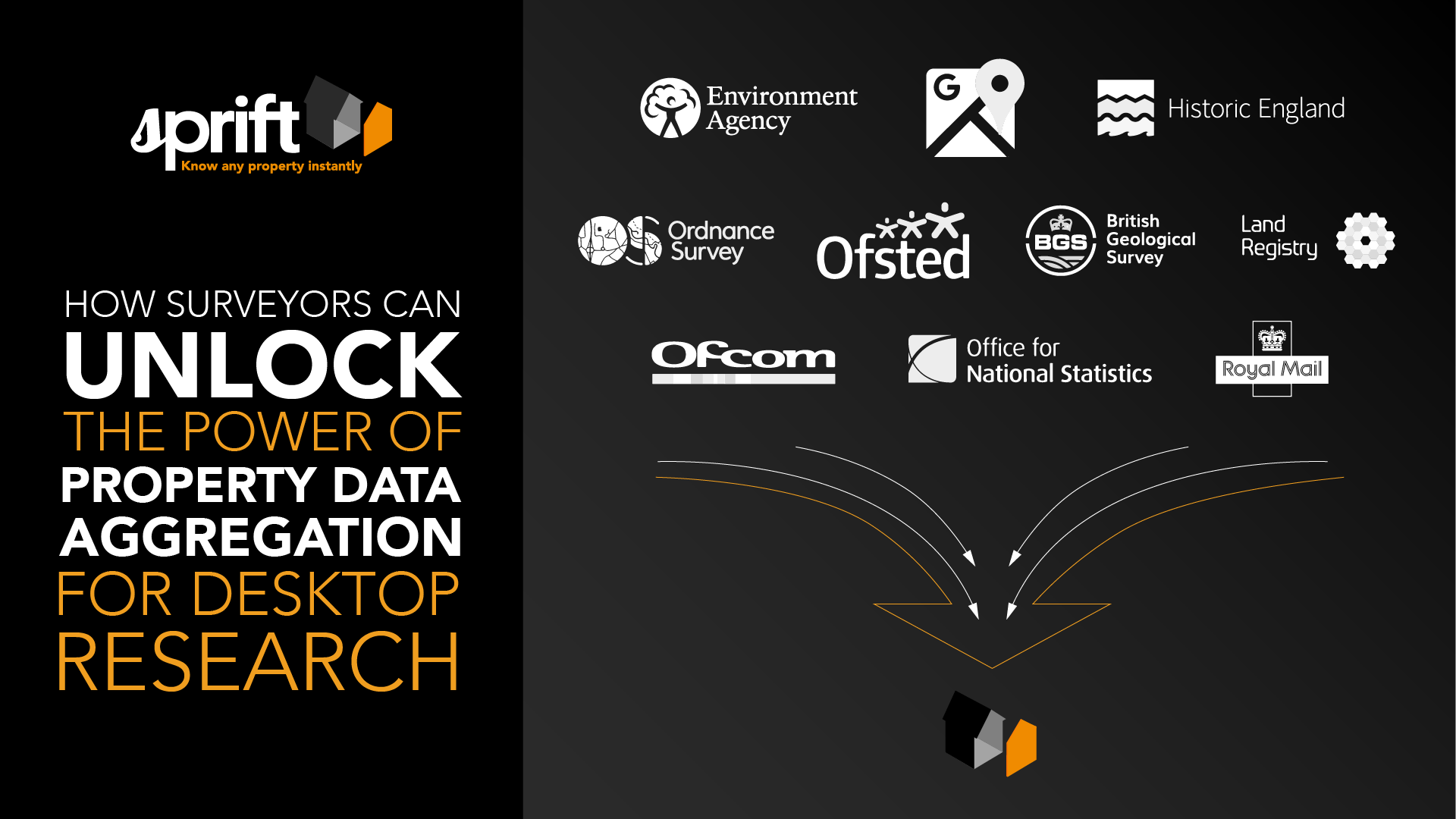 Sprift aggregates data to accelerate tasks for Surveyors
How Surveyors can Unlock the Power of Property Data Aggregation for Desktop Research
(The Benefits, Pitfalls, and Best Practices for Success)
By
Jamie Craddock – Head of Surveyor Technology at Sprift – Know Any Property Instantly
As a property surveyor, you know that your success hinges on your ability to provide accurate, reliable, and timely insights to your clients. Whether you're evaluating a property for purchase, preparing a valuation report, or advising on property development, investment or insurance, you need access to comprehensive and up-to-date information about the specific property, current sales market, environmental factors, local regulations, and industry trends.
As the demand for this property information increases, surveyors face the challenge of navigating through vast amounts of data from a swelling number of sources. This is where data aggregation can revolutionise the process. By amassing property data from official and trusted sources and presenting it in an online dashboard for desktop research, businesses can provide surveyors with valuable insights, time-saving tools, and a competitive edge.
In conversations with many surveyors – the benefits, pitfalls and successes of working with data aggregation have become apparent and I thought it valuable to share these…..
Benefits
1. Time Savings
Clearly, Surveyors can save significant time and effort by having access to a platform that automates the data compilation process. A single, unified dataset, built specifically for the needs of surveyors, reduces the time and effort required to gather, clean, and integrate data from a wide variety of disparate sources. This allows them to focus more on their core surveying activities, which naturally helps increase their productivity and profitability.
2. Improved Accuracy and Reliability
Aggregating data from official and trusted sources ensures that the data presented to surveyors is accurate, reliable, and up-to-date. Data quality controls, validation processes, and standardisation applied by the data aggregator can help ensure that the data is consistent, complete, and trustworthy. This enhances the accuracy of property assessments, valuation reports, and other activities, leading to more reliable outcomes. This is not removing the human from the process, this is simply placing everything they need in one place to then apply their professional knowledge more efficiently.
3. Comprehensive Insights
Data aggregation provides surveyors with a holistic view of property data – having one place where they can access information specific to a property, comparables, environmental data, local authority regulations, and much more. This comprehensive data can help surveyors gain valuable insights into property conditions, trends, and market dynamics, which leads to more informed decision-making, risk assessment, and client recommendations. It also helps them identify opportunities and to differentiate themselves from the competition by offering unique and valuable services to their clients.
4. Keeping your digital transformation on track
Surveyors that engage with any 'tech supplier' and provide feedback into future feature requests and, in this example, additional datasets for desktop research, are providing hugely valuable pointers. They should, therefore, reasonably expect these to be considered and where they are a clear improvement to the platform, be activated within a timely manner. This ensures the Surveyor is helping to forge the future of their industry and using 'cutting-edge' technology with all the efficiencies that brings.
Pitfalls to Watch Out for
1. The 'Mess of Address'
22a Acacia Avenue, Sampletown, AA1 1AA
or
Garden Flat, 22 Acacia Avenue, Sampletown, Anycounty, AA1 1AA
Despite aggregating data from official and trusted sources, there may still be inconsistencies in data formats, units, definitions, or structures. Stakeholders of source data all catalogue, identify and locate properties in their own way and from a wide range of methodologies e.g. address strings, longitude and latitude, eastings and northings, UPRN, title numbers, postcodes, etc. Therefore, it's essential to ensure that proper data mapping, transformation, and validation processes are in place to address any potential data inconsistency issues and ensure the accuracy and reliability of the aggregated data.
2. Understanding Data Presentation
By its very nature displaying aggregated data for desktop research in one single place is going to be presented differently to the source data, even though they are one-and-the-same. Surveyors should allow time to familiarise and understand these differences so that they aren't automatically assumed to be errors. Just because source data is presented in one fashion, doesn't mean that a data platform hasn't been able to find a better alternative.
3. Technical Complexity
Property data aggregation can be a complex and technically challenging process. Surveyors who decide to compile data themselves may need to develop or acquire specialised data processing and evaluation tools, or hire data scientists with expertise in data aggregation and analysis. This is further compounded as an increasing amount of datasets are being released in a digital format.
Best Practices for Success
To leverage the benefits of having instant access to a single source for property specific data, I would naturally encourage surveyors to engage with a property data platform such as Sprift, in the following ways.
1. Immediately view the dashboard for any property enquiry you receive to position yourself as the true Local Property Expert. Imagine being able to introduce information specific to the subject property, whilst on an initial client call. You will quickly earn their trust and likewise their business.
2. In addition to promoting your professional memberships/qualifications, promote that you are the trusted adviser with access to comprehensive and verified data through working with a reputable and trusted property data aggregator – reducing the risk of errors, inconsistencies, and biases in the underlying data.
3. Use consumer-facing reports to win business, even if the consumer is a business. Our clients see increased conversions by sharing Key Property Facts reports at quote/initial engagement. This clearly differentiates your business and demonstrates that you have already conducted research into the subject property, putting you ahead of the competition. A Desktop Research Report from providers such as ourselves, then becomes a great follow-up/deliverable when the client has formally instructed you.
4. Engage with your 'tech-stack'. Define a process of what tech you use, when and why. This not only helps you to scale your business but also track the RoI of your tech spend. Then feedback on improvements/additions you feel that would benefit the platform. This feedback drives the development roadmap for most tech businesses and will be warmly received!
In conclusion:
Property data aggregation provide surveyors with significant benefits
Be aware of the differences in how the same data can be represented
Use it to win business and earn trust
and enjoy finishing early on a Friday with all the time saved!