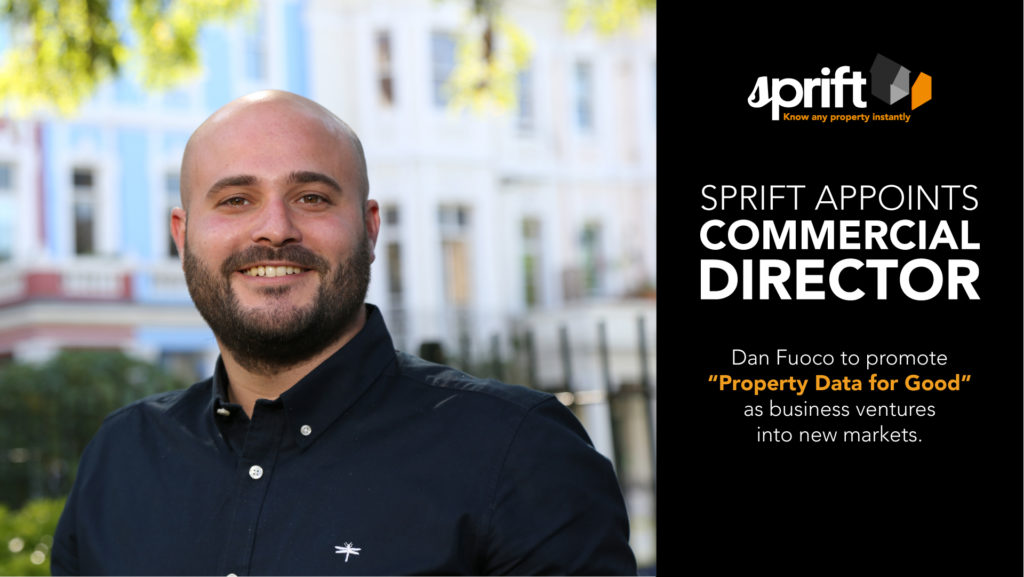 SPRIFT APPOINTS COMMERCIAL DIRECTOR
-Dan Fuoco to promote 'Property Data for Good', as business ventures into new markets-
Sprift, the property data specialist, has appointed Dan Fuoco into the role of commercial director. He will be responsible for breaking new ground and exploring fresh markets with Sprift's extensive property data, promoting what will be termed 'Property Data for Good'.
Dan has vast property experience having worked in the industry since the age of 18 in 2010, as he followed his mother's footsteps into estate agency, and his grandmother who owned a conveyancing practice. His most recent role was as head of commercial operations for Homesearch, where he was responsible for commercial strategy.
Matt Gilpin, CEO at Sprift, said: "This is a very exciting point for the business, and I am delighted that Dan has come on board to explore new avenues for our extensive property data and overseeing our venture into new markets.
"Our mission remains unchanged, 'to better inform buyers and, ultimately, reduce the time it takes to complete a property sale' – we want to improve the home buying and selling process. Our data is only as good as those who are using it, and – already – it is having a huge impact on swathes of agents. But now is the time to break new ground with unrivalled property data, and to enable so many others to benefit from its value. From mortgage companies to asset management, utilities and the public sector – there are endless and multi-faceted property transactions which really could benefit."
Dan Fuoco added: "I have a deep understanding of the applications of the data and how it can be used. I also have an appreciation for the pain points and the key cogs of the property information cycle. I truly believe that Sprift has the power to fill so many of these gaps and to support the requirement for minimising risk.
"This truly is property data for good, where we will continue to act on market demands at relevant touchpoints, to try and set about influencing change in all industries that consume property data."