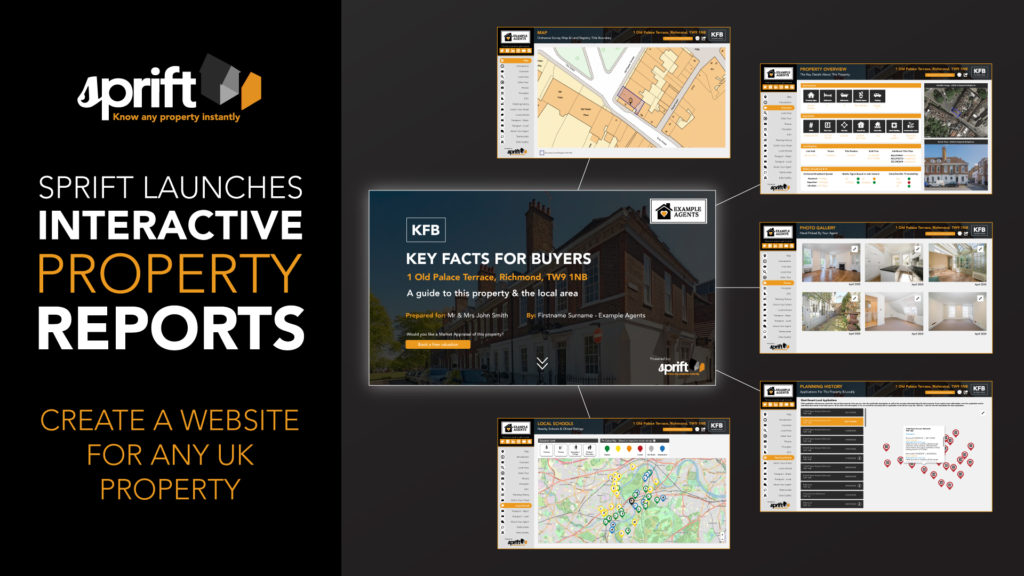 Sprift Launches Interactive Property Reports.
First-to-market interactive property reports that provide an instruction winning tool for agents, this is one way to future proof property marketing.
Following extensive research and development, Sprift is proud to launch its interactive property reports, creating an instruction winning tool for agents and potentially reducing the need for initial face-to-face interactions, crucial in the current climate.
An industry first, the live and interactive reports create a truly 21st century property brochure experience. All data for an individual property including title plans, house price history, planning history, flood risk, council tax, local schools, leasehold information and EPC is aggregated and held on the report.
Photos, floorplans, satellite images and street views can be zoomed in and out of for granular, transparent and current information – a microsite for every property – better informing all parties in the property transaction process.
Furthermore, all agents using Sprift will also be able to provide an interactive property report for a vendor's onward property purchase – helping to complete the entire chain and supporting the company's bid to help reduce transaction times.
Andrew Overman, partner at Location Location (East) estate agents, who has used the original Key Facts for Buyers report from Sprift across all areas of his business, said:
 "With the launch of the interactive property report functionality, I am really excited by the prospect of having everything 'under one roof' for every single property. This is a major step forward for our team, and the industry." 
Matt Gilpin, CEO at Sprift, added:
"Our property reports are the most comprehensive on any UK property. Following feedback from agents and with our continued pursuit to be the go-to source and authority on property data, we are very excited to be launching the reports in a live and interactive format for buyers. They create a complete and true picture about the property the buyer is researching, completely upgrading the traditional property brochure in order to help support that decision.
Our industry must do all it can to reduce enormous transaction times and to support a new house buying culture. More than 3,000 estate agents now rely on Sprift data in order to help assist a faster and more efficient property transaction process."
 Sprift offers the most comprehensive source of data on UK properties. The data is made available to any property professional to share with their clients, either through an online dashboard or fully white-labelled vendor and buyer reports. For further information, please visit www.sprift.com.