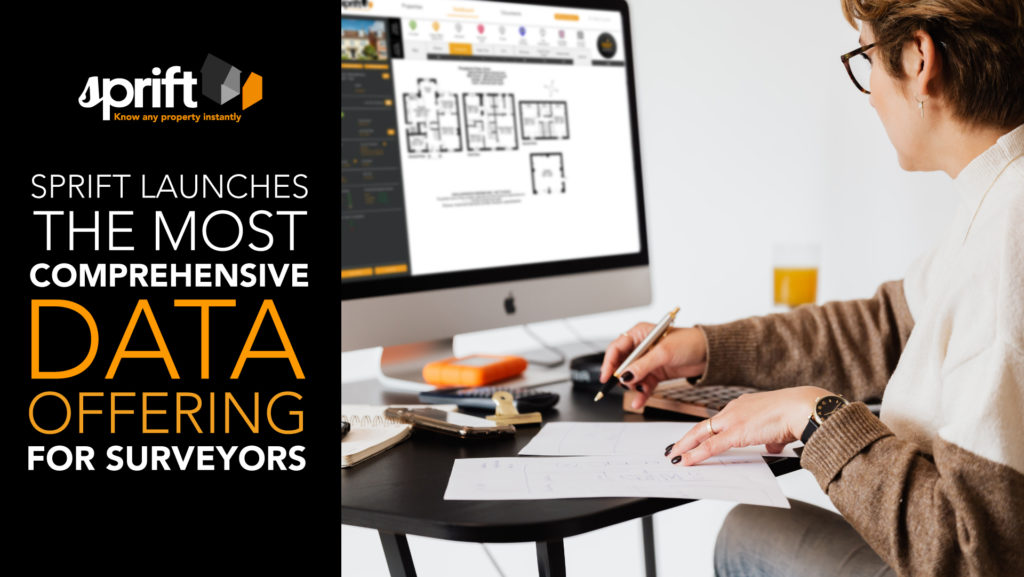 SPRIFT LAUNCHES THE MOST COMPREHENSIVE DATA OFFERING FOR SURVEYORS
Sprift, the property data specialist, has launched its new 'Sprift for Surveyors' product. The desktop assistant tool offers the most comprehensive range of data ever available to surveyors from official and trusted sources, and it combines Sprift's market-leading property-specific data with whole of market comparables. 
Through the powerful Sprift dashboard, surveyors can research any UK property in one place. Key facts available include: Land Registry plans overlaid onto hi-res maps and satellite imagery, corrected Google Street View, planning history, EPC, environmental information, year built, construction details, as well as listing and sales history. Research can be saved for future reference and fully white-labelled vendor and buyer reports can be exported from the dashboard, either as a PDF or as an interactive online report. 
With this launch, Sprift brings an enterprise level solution to the whole of the surveyor market – from independents to large organisations and corporates. The Sprift for Surveyors desktop research facility is designed to help surveyors save time, offering the widest range of data and functionality available at the pricing level [1]. 
Surveyors can also use the data available to support their own business prospecting, as it enables them to make contact with sellers and furnish them with relevant local and property information for their onward purchase.   
Leading the surveying division will be Jamie Craddock, as Head of Surveying Technology. He has been with Sprift since June 2020, and with 20+ years' property experience, he will continue to support his estate agency client base. In the role, Jamie will be responsible for launching and enhancing the product and building up the surveyor client base. He said: 
"We have listened to surveyors and are excited to be launching this game-changing tool, which has been in development for a considerable period of time. We wanted to bring a cost-effective offering to market, providing surveyors with a range of benefits to support their role in the property transaction process, whilst also helping them to develop their credentials at a very cost-effective price.
"There are over 28 million properties stored on the Sprift platform, and we have already produced nearly 1.8 million reports for our estate agent clients. We look forward to hearing the response of surveyors to the new platform." 
James Brook MRICS, director and chartered surveyor at Novello, added: "This is a powerful desktop tool for surveyors, and will enable them to undertake detailed research for both surveys and valuations, providing them with crucial information such as comparable sales – all in a single platform."  
1. The platform will be billed from £75 per month- which works out approx. £2.50 a day