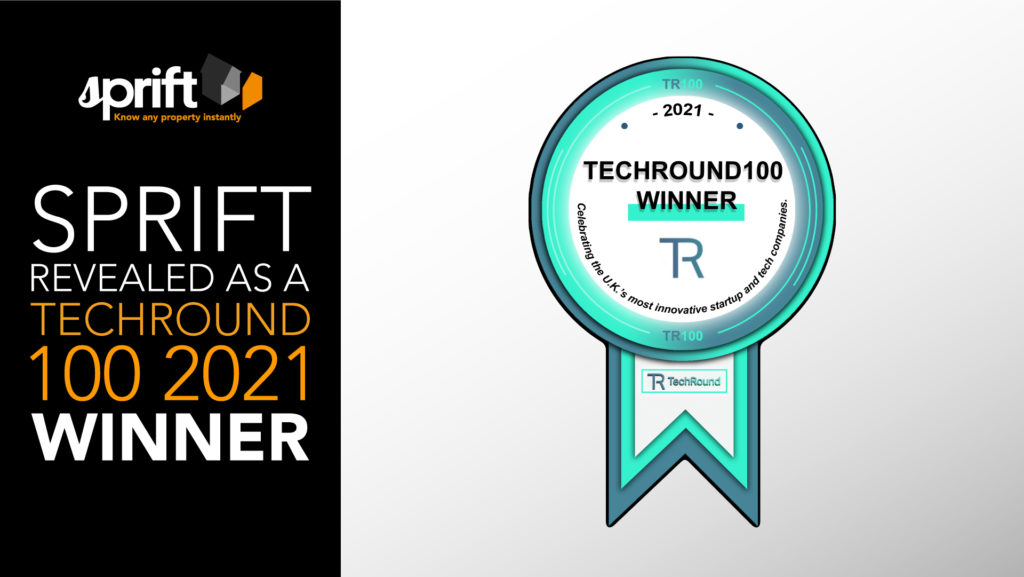 SPRIFT REVEALED AS A TECHROUND 100 2021 WINNER
We are delighted to announce that Sprift has been named in the TechRound100 – an annual competition that celebrates the most successful and innovative startups in the UK and is hosted by leading startup news site TechRound.
This year's TechRound100 competition saw more than 3,000 applications reviewed by a panel of expert judges which included investor Roei Samuel (Connectd), startup figures (Apprentice winner Mark Wright and TedX speaker Perrine Farque), other startup peers and former winners (Sammy Rubin of YuLife, Jonathan Lister Parsons of PensionBee, Michel Andre of Banking Circle) and Dana Leigh (TechRound editor).
Matt Gilpin, CEO at Sprift, comments: "Tech is at the heart of all we do, and we're thrilled to be a winner in the Techround 100.
"We're here to generate real change in the property industry through our unrivalled data. Sprift is on a mission to ensure we have better informed buyers and data-empowered agents, in order to create a more positive property buying or letting experience and reduce the time it takes to complete a transaction. It's an honour to be recognised for our work amongst all these inspiring entrepreneurs and businesses."
Previous winners of the TechRound100 include the likes of Zoom, Revolut, Pleo, Too Good To Go, Coconut, Vinehealth and allplants. The competition has often highlighted future unicorns well before their time, with the likes of TikTok, Cinch, Cazoo and Gousto featuring in the list more than 3 years ago.
Feedback From The Judges 
"The TechRound 100 is the flagship event of the year, highlighting the hard work and success of UK startups, businesses and entrepreneurs. With more than 3,000 applications this year, we hope that our top 100 list acts as testament to the UK startup scene and also provides inspiration for the next generation of startups and entrepreneurs."
"We would like to say a big thank you to our judges and our sponsor fayre, the NFT club. We look forward to seeing more thrilling startups in our competitions next year…"