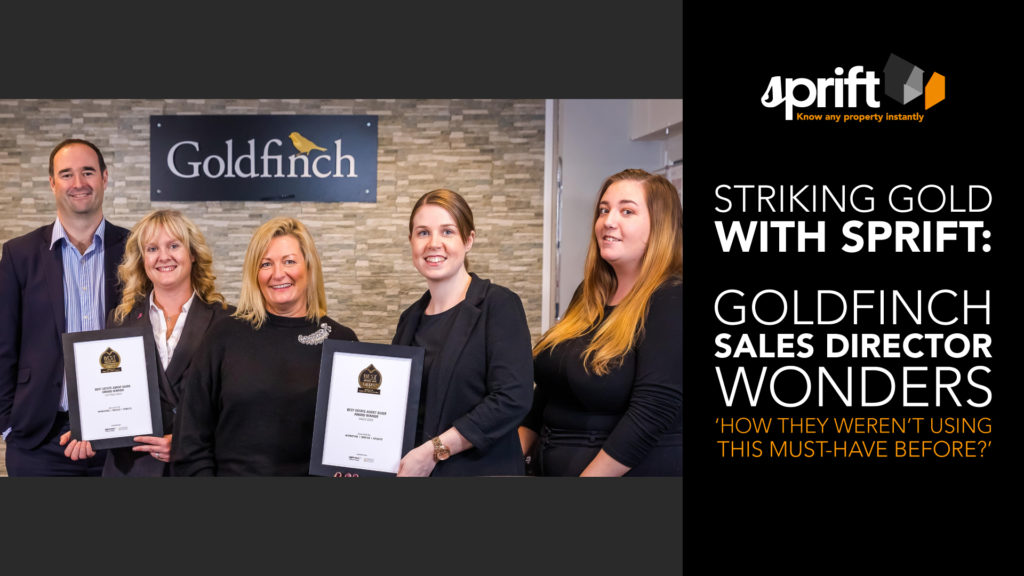 Striking Gold with Sprift

Goldfinch Estate Agents
Covering South Tyneside, South Shields, Jarrow, Hebburn and Boldon, Goldfinch has one overriding objective: to offer an outstanding, comprehensive package at an affordable price – delivered with the utmost professionalism. Whether buying, selling or letting, their aim is to achieve the highest value for the customer.
Angela Todd, sales director at Goldfinch: "We have always tried to differentiate ourselves from other agents, and to provide the highest levels of insight for buyers and sellers."
Sprift… a few weeks in
Only a few weeks into their Sprift journey, and the team at Goldfinch have not looked back since they opted to start using the technology. Angela adds: 
"We heard about Sprift through an estate agency network group, and so we decided to proceed. How we weren't using this before, I have no idea! Taking on and using Sprift has definitely given us the edge.
"The whole team is using Sprift – across the board, and the feedback has been phenomenal. We use the Key Facts for Buyers reports in a number of ways – creating an interactive link, which loads onto the website where buyers can download. We also create printed 'leave-behind' PDFs, which are proving to be a very valuable tool."
The team accompanies an appraisal confirmation letter with a Sprift report along with the Key Facts for Buyers. And in only a few weeks, they can cite where instructions have been won as a result of the depth of knowledge demonstrated via the Sprift reports.
Relying on the data
"Our team loves the Sprift report in terms of the comparables it offers, and to help them when it comes to booking market appraisals. Taking the report along gives them that added ammunition," adds Angela.
"It is also a great tool for potential sellers – showing them how they showcase their properties in the best light."
When they took on Sprift, the Goldfinch team saw it as being a 'nice to have'. Today, it is very much a 'must have'. Angela adds:
"I would recommend Sprift to other estate agencies – it has 100 per cent added value to the service we offer.
"It has also been hugely helpful when it come to our prospecting activities – adding that extra layer of professionalism and integrity to our service."
Team vibes
The entire Goldfinch team now rely on the Sprift reports. Amy Shields, head of sales at Sprift, adds:
"This is such positive feedback in such a short space of time – I am delighted that our data and reports are making a real impact.
"Also, great to hear that Goldfinch is maximising the value of what we offer, and amazing that the whole team is getting involved. We'll be speaking to the team for the all-important platform feedback. Because Sprift continually innovates and evolves, based on our users insight."