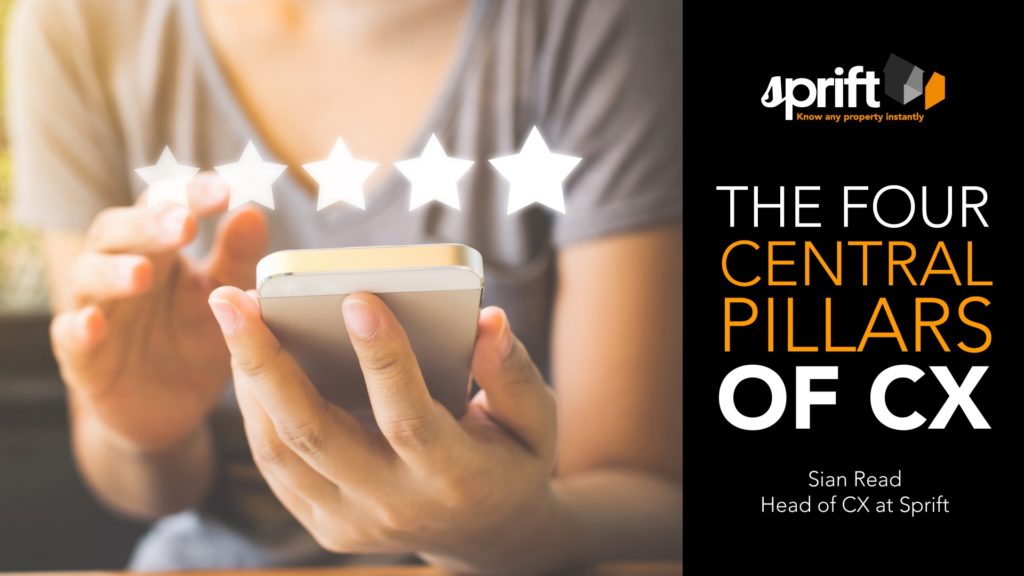 The Four Central Pillars of CX
Sian Read, Head of CX at Sprift
Customer experience (CX) encompasses all the parts of the customer journey, whatever the industry. When it comes to property transactions, it's not just a survey after a sale has completed asking: "How was your experience working with us?", or "How likely would you be to recommend us to others?". It's an active, ongoing process of communication and adaptation.
A 2018 PwC study found that consumers are willing to pay up to 16% more for a better customer experience. Even more importantly, 32% of customers would stop doing business with a brand they loved after just one bad experience1. Highlighting just how critical it is to ensure your brand has a strong CX strategy in place from the outset.
In order to create an exceptional customer experience, there are some key elements that must be included in any strategy. Communication, ease of use, personalisation, and innovation are the four main pillars of an effective CX strategy.
Of course, we believe that Sprift is an exceptional product, delivering in-depth and valuable data. However, we have made it our priority to look beyond the technology and product itself, to ensure that our ongoing service and aftercare delivers the highest ROI and best experience possible.
So, here's an insight into how we incorporate the central pillars of CX into every aspect of what we do at Sprift.
Communication
Responsiveness is very important for customers, from the initial enquiry, throughout all subsequent communications. Customers are expecting speedier replies at every stage, with one survey finding that 16% expect an immediate reply and 21% within just one hour.2 Our customers can choose to interact with us via live chat, email, or by telephone.
In addition to speed, quality of the response is also important. When a customer has a query it's crucial they receive a full reply, with all the information needed as this speeds up the process and avoids a time-consuming back-and-forth.
Part of our aim at Sprift is ensuring as rapid a response as possible, and that information is clearly shared, to help onboard new customers quickly, but also to support aftercare. As one of our customers commented:
"From the moment we arranged a demo the people at Sprift were on the ball right from the off. They explained everything perfectly and they are still there to answer any questions or queries, they really are a great company with a great product." Mark White, Homefind Solutions
We provide specialist training from the outset, but regularly check in with customers to ensure they have no issues, that they are utilising the product in the best way, and to see if they require any further support or training for their teams. When agencies sign up with the Sprift platform we carry out a full training session for agents, not just on how to use the system, but also providing them with lots of tips and tricks for them to employ.
Following onboarding training, we proactively touch base with the customer via an outbound call two weeks later. Thereafter, they fall into a quarterly cycle of outbound calls designed to ensure we have ongoing communication around how they are getting on and any further support we can provide to continue delighting them. Refresher training is something that is offered as part of this if required.
Personalisation
Providing a personalised service is incredibly important for consumers now, but it should be equally valued by brands as it guarantees that their product is best utilised. That's why we offer bespoke training with Sprift; to ensure that clients are getting the best return on their investment and that they are able to use the capabilities of the platform to best serve their unique agency needs.
As technology improves there can be no more cookie-cutter customer service, products, and experiences. Each client is an individual and must be treated as such, as without this attitude we cannot develop an open line of communication and trust, which is how we can get the most honest and effective feedback for improving our product (ongoing), and how we can guide them on best using the particular piece of technology they wish to focus on. As these testimonials highlight:
Andrew Miller, director at Bourne: "The Key Facts for Buyers reports are an excellent way of showing homeowners that you really understand their property and will be a solid agency partner. My personal valuation to instruction rate has risen by 25% since using Sprift!"
Angela Todd, sales director at Goldfinch: "Our team loves the Sprift report in terms of the comparables it offers, and to help them when it comes to booking market appraisals. Taking the report along gives them that added ammunition."
Ease of use and speed
To facilitate better CX we are always aiming to make processes quick and effortless. Sprift is designed around the user and we are constantly evaluating and using valuable feedback to put customers at the heart of the platform.
Kevin Shaw, Group Managing Director of Residential Sales at LRG: "The time savings offered by these reports have been invaluable, particularly in the current demanding climate."
Within the Sprift dashboard, we have a section called 'Academy', where we provide a series of how-to videos to assist agents on how best to use Sprift, for example how to set about personalising Interactive Property Reports or how to understand local market activity. At the end of the day, we want to do all we can to ensure agents can answer their own questions as quickly and efficiently as possible.
Innovation
At the centre of our innovation and research and development are the customers…and potential customers. We actively seek feedback and suggestions to understand sentiment and implement improvements. This means that creativity, listening skills, flexibility and a can-do attitude are at the core of Sprift culture. Our team is excited and fuelled by the ability to make positive changes to our industry, and to our product.
1. https://www.pwc.com/us/en/services/consulting/library/consumer-intelligence-series/future-of-customer-experience.html
2. https://www.arise.com/resources/blog/customer-service-frustrations-series-email-response-times