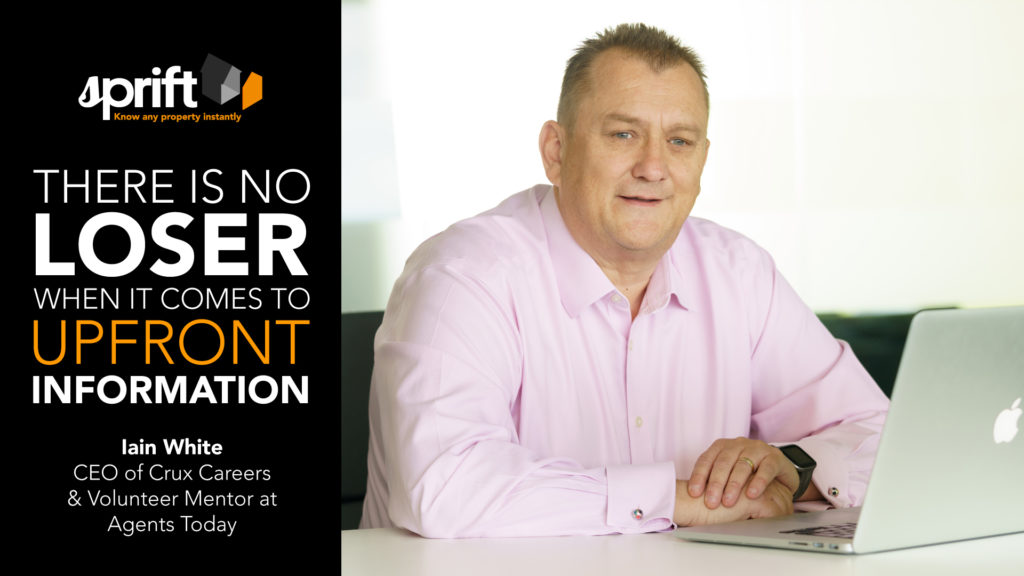 There is no Loser When it Comes to Upfront Information
Iain White, CEO of Crux Careers and volunteer mentor at Agents Today
It's a well-known fact that the property transaction chain is a troubled one. When a property has gone under offer, a large part of an agent's job is done, but the inefficient and unreliable chain still reaches them and impacts their business and the bottom line. The process needs a major overhaul, with transparency and upfront information being a priority. Chains up and down the country need fixing, as does the entire communications process between agents, conveyancers and – ultimately – the consumer.
Back when I worked in an agency in the 90s the time for a transaction to complete averaged 8-12 weeks. Today, that figure has risen to 16-18 weeks, which is up to 10 weeks more! This huge time delay obviously exposes the chain to a greater number of potential fall throughs along the way. How can it be that in today's digitally enabled world, we are slower to transact than in 1990? Perhaps because there is a real fear of potential litigation. A fear that shouldn't need to exist when stronger upfront information and better communication can forge trusted relationships amongst all parties in the transaction process.
Where once deals were turned around every 8-12 weeks, and agents' pipelines were exchanged x4 per year, this is now – on average x2.6. This impacts turnover, profits and cashflow, which consequently hampers investment, and makes it monumentally difficult for agents to truly stand out from the crowd.
Clearly everyone would prefer to have a fluid market; one which sees a greater volume of sales annually and with it generates more income. This is where good tech has a role to play, as it helps support faster transaction times and creates a more cash-fluid industry.
A conveyancer or agent armed with strong data has the ability to make things happen, and to keep things moving. Today's property buying and selling process lacks expediency, transparency and certainty – anyone could pull out at any time, and – sadly – there is no defence against poor behaviour. A lack of upfront information means a buyer is likely to be shocked by something about a property that comes up at a later date. Sometimes it is this shock alone which makes people feel as though they have had something concealed from them, which in itself can be enough to break the chain.
I'd even go as far as saying that the cost of moving is not the main issue, it's the broken system that currently exists. The real barrier to a fluid market is not money, and not stock. It's the fear of the process. Buyers and sellers need to have legal certainty and expediency.
Sprift can cut off much of this at the pass. Rich data has the potential to bring the completion times down to the hazy days of the 90s. There is no loser when it comes to using upfront information. If I was a conveyancer, I would welcome and value this information – it even has the potential to help them handle a greater workload, and to build their bottom line.
Can we get back to 1.5m transactions annually? I hope so, but the key comes to unlocking and communicating the potential that data has to offer. Our economy would also see great benefit – not only from the stamp duty collected, but also the myriad connected services, across the refurbishment industries.
Agents have the power at their fingertips, and they should be leaning heavily towards working with the more tech-savvy, data hungry conveyancers, as opposed to any antiquated 'blockers'. At the end of the day, it's about creating a more open dialogue between agents and conveyancers, and I'd say we're not a million miles away from agents beginning to become more heavily involved in the conveyancing process.
What we all need to remember is that the solidity of an offer from an informed buyer (armed with proper upfront information), has to be better, because transparency will always win. In this case, it will help to drive a more fluid system, fixing what has become very broken.