Why Accessible Property Data Is the New Gold for UK Property Professionals 
Talk to an estate agent today and you'll soon hear words like "property data", "data mining", "data scraping", and "data analytics" cropping up in the conversation.
Why?
Because data is the answer to practically every single question buyers, sellers, brokers, and everyone in between, has in the property market. Property data in the UK has become so valuable that it's now essential for professionals in the industry to have a firm grasp on how to search for, gather, store, and analyse it.
But here's the problem.
Property data in the UK is a mess and though estate agents today are a thousand times more tech-savvy than they were just half a generation ago, they're not actually data scientists – and who's got the time to search for, sift through, amalgamate and dissect all the disparate data sets available to those who know where to look for them?
Where Do You Source Your Data?
HM Land Registry is usually where property professionals start their search for UK property data. Anyone can log into the portal and see details of all the individual properties sold in an area in the previous months. That's all well and good, but it's not big data – and big data is where the true value lies.
As described by RICS, big data is a "term used to refer to the study and applications of data sets that are so big and complex that traditional data-processing application software is inadequate to deal with them."
In the property industry, big data concerns almost every aspect of real estate analysis – from property price and type, to the number of bedrooms, floor plans, energy consumption, construction details, comparable buildings, local amenities, schools, broadband speeds, demographics, crime rates, market trends, interest rates, supply vs. demand, etc., etc., etc. – and you don't get all this from the Land Registry.
Instead, it's usually the task of a junior level staff member to scour websites, government data sources, property listings, and good old Google, to gather as much information as they can – but it will never be enough to be considered big data.
Why Estate Agents Need Big Property Data
While it's true that UK property data is now more readily available than it has been in the past, the fact of the matter is that the most valuable information is often only available for a large geographical area and expensive to access – prohibitively so for a lot of smaller estate agents, who, in any case, still struggle to source relevant data on the specific area they're targeting.
Even for those who can pool together a few local data sets from key sources, the challenge remains to harness it for quick, actionable insights.
The true value of big data lies not in the data itself, but in the insights, proper processing can unlock.
The trouble is that when data is being sourced, collected and managed manually, not only are we still not even in the realms of big data, but the process itself is inherently slow and error-prone, the data may be low-quality (i.e. inaccurate/unreliable) and the ability to mine the data to discover hidden patterns that lead to profitable decisions is simply not there.
For example, let's say you want to sell a new apartment building with 200 apartments in a new area. You've been in the industry long enough to know that ground floor apartments usually take longer to sell than those on the first and second floors.
But how much longer?
And what should the price difference be? Big data removes the guesswork and the trial-and-error to reveal the insights and indicators you need to make the right decisions.
How?
Because it considers both traditional and non-traditional factors that have an impact on location-specific outcomes.
As revealed in a recent report from McKinsey – Getting Ahead of the Market: How Big Data Is Transforming Real Estate – new and unconventional data sources are becoming increasingly relevant to identifying trends and predicting real estate values in the States and the same is happening in the UK too.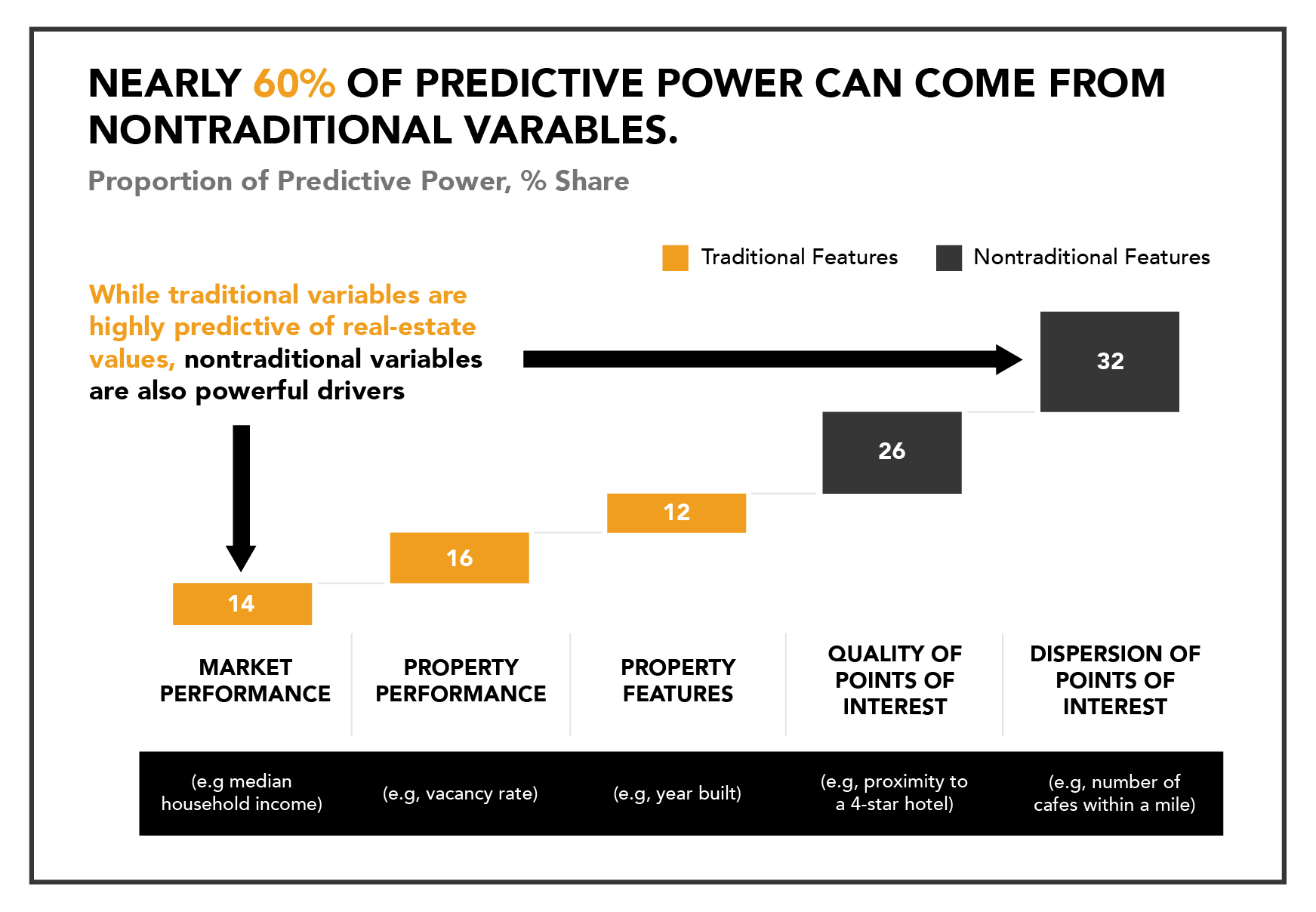 (Image source: mckinsey.com)
"This information is not traditionally considered real estate data," says the report, "…but stitching such data points together can more accurately predict hyperlocal areas with outsized potential for price appreciation."
Sprift Is Cleaning Up Big Property Data in the UK to Give You the Insights You Need in One Place
Property data in the UK is long due a clean-up.
Simply finding property specific, hyperlocal and local market data estate agents need to make the right business decisions is resource-heavy and time-consuming enough – but when the data you do find is outdated, inaccurate, contradictory, or otherwise unreliable, it's of little value anyway.
Sprift's mission is to create a single source of truth for UK property data – the one place where the big data you need to make accurate, timely decisions is presented in a simple, easy-to-digest, professional format.
At Sprift, we source, amalgamate, and analyze the data you need, so you don't have to.
To date, there are over 25 million properties stored on our platform, and we've saved our clients more than £19.5 million worth of research hours.
Since 2016 we've been working with property professionals to create the data they need to get the results they deserve.
Contact us today to find out more about our UK property big data platform and how we can help you save time and win more business.