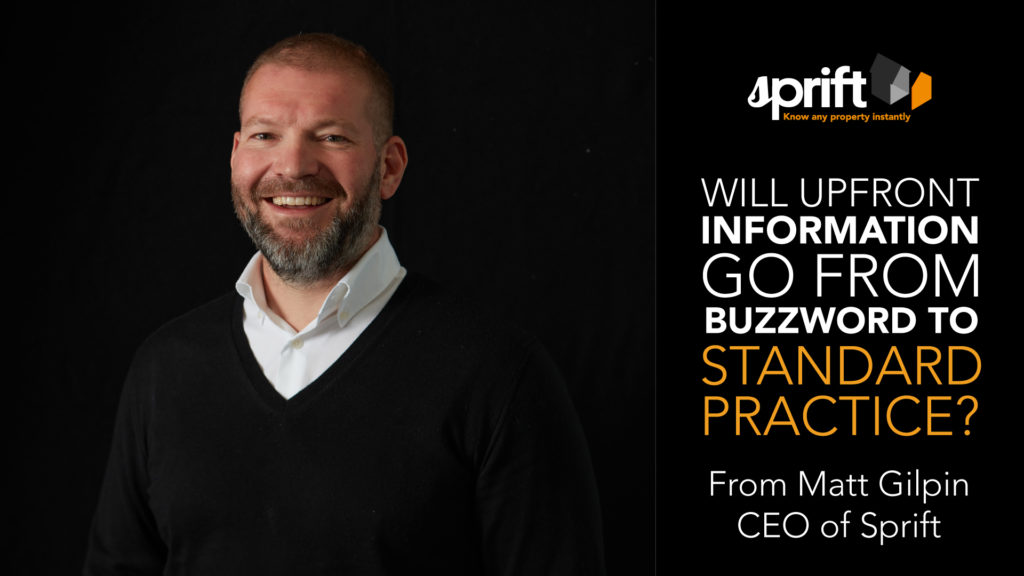 Will 'upfront information' go from buzzword to conventional practice in the year ahead?
Of the many industry buzzwords, I suspect "upfront information" was up there as one of the most widely used in 2021. Whether a proptech announcing an innovation, or a comment piece stating that upfront information is a way of addressing the unwieldy sales transaction process, this is one topic that is regularly mentioned and that always garners lots of opinions.
Now, with the new "material information rules" initially alluded to in the Levelling Up agenda followed by NTSELAT's part A of the details – tenure, council tax band and rate must be included on all property listings – unveiled this week, it's clear that the government is aiming for mandatory disclosure of material information at the outset of a transaction.
What's the problem?
A recent Landmark Estate Agency Services survey of agents[1] suggests that 83 per cent expect more upfront due diligence and data insights to help buyers to make better informed decisions and receive fewer surprises later in the legal process. With a reported third of property sales falling through before completion in the final quarter of last year[2], it's clear that such insights are necessary. This is a problem in the sales process that certainly needs to be addressed and it's clear that all parties in a property transaction would benefit from more comprehensive upfront information.
At Sprift, we have been evolving our comprehensive source of data on UK properties for the last six years. We are constantly developing our tech to try and find solutions to improve the sharing of this information, in order to reduce all-important transaction times.
Listening to agents and conveyancers has been at the cornerstone of our continual development, in order to address the need for upfront information. As such, our data can be shared instantly to all parties in a property transaction, via our online dashboard, which includes over 100 individual data points for every UK property, including title plans, planning history, EPCs, photos, floorplans, conservation areas and flood risks, as well as the necessary legal/protocol forms.
What is great to see today is that conveyancers are embracing upfront information as part of their digital transformation, in the same way their estate agent peers have over the last few years.
A single source of truth
By allowing property data to be shared with all parties right from the outset, everyone in the process can see the full set of information about a property – providing a trusted single reference of truth from official and trusted sources.
This sharing should be done at property listing stage, rather than waiting until an offer has been agreed between the buyer and seller – and this is where mandatory material information at the outset will help. Sellers should also engage a conveyancer at the time their property goes on the market, so that all the necessary documentation is in place when a sale is agreed and legally prepared. I believe this will speed up transaction times and reduce errors or misunderstandings, thus helping to prevent any issues down the line – saving time and money – and preventing transaction fall throughs.
Crucially, this will only truly be effective when the professionals in the transaction (estate agent, conveyancer and mortgage broker) and the consumer (buyer and seller) have seen and agreed what is being bought or sold at the outset.
The information is there, the challenge now is how this can be evolved and implemented so it becomes standard practice for all parties to share it from the start of the sales process. Certainly, the NTSELAT defining what the material information should be is a good place to start.  Perhaps in 2022, the "upfront information" buzzword will finally become standard practice on any property sale as soon as a property hits the market.
[1] https://www.estateagenttoday.co.uk/breaking-news/2022/1/agents-expect-more-upfront-info-and-paperless-processes–survey