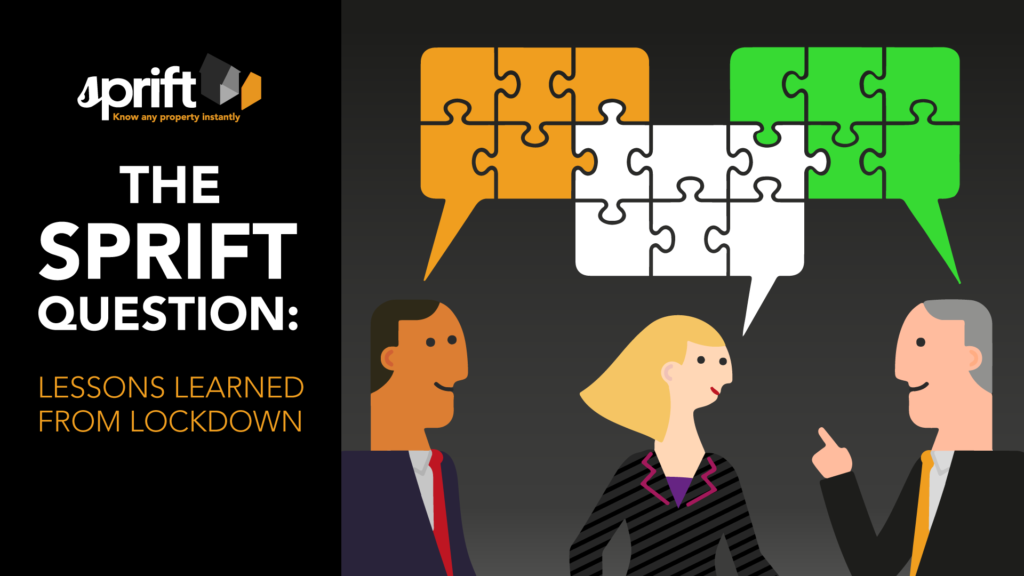 How to be a Successful Estate Agent in the Second Lockdown.
Lessons learned from the first Lockdown.
"Take ownership, be aggressive, communicate better than ever, don't forget to focus on your wellbeing, try not to set up weekly Zoom quizzes (and don't watch too much Monty Python!) "
The second England-wide lockdown is here. But the good news is that this time round the property market remains open for business, but sales and letting agents – like every other business in the country – need to go one step further to stay one step ahead.
Since 2016 Sprift has been on a mission to better inform buyers and to give estate agents a competitive edge by providing accurate property data. So once hearsay had been replaced by the Government's official confirmation of lockdown take 2, we reached out to a handful of our 3,000 agency clients to ask them for advice to help their industry colleagues swim against the tide:
Q: "What one thing have you learned so far this year, that will help you be successful in lockdown 2?"
(Naturally some had more than one thing to say!)
"Agents must take ownership of the entire home moving process and not just the sale of a home"
Jon Brierley, founder of Lennon James Property, said: "Appreciating and understanding that our clients have busy lives, jobs, children, pets combined with the worry and impact that Covid-19 has had on everyone's lives has resulted in us understanding the 'real' need for us as an agency to immerse and take progressive steps throughout the entire home moving process, to ensure we have the ability to take full ownership of everything from start to finish as a service standard for every client. For example: assisting them in getting their home ready for market (cleaners, gardeners)."
He added: "Having real tangible steps we have implemented to take 'ownership' of the entire process for those clients who need/want it and this resulting in us being able to offer a richer, more rounded moving experience has been a hugely valuable and profitable learning and is something that we will continue to build on moving into 2021."
"We have to be even more aggressive with our sales"
Joe Kilbride, director at Maurice Kilbride, said: "… now going into lockdown we are going to have some busy weeks and some not so busy.  The main focus is making sure that when it isn't that busy, we are on the phone to applicants – not waiting for the viewers but making sure they come to us."
"Communication is more important than ever with content backed up with real data"
Roy Fever from Evolution Properties: "The need to regularly communicate in every way possible with your audience with relevant and interesting content backed up with real data."
Paul Dewhurst, Director of Country Properties, said: "It has become even more important to keep clients fully updated with clear communication."
"Being fluid, being nimble and open to change," were points all flagged by Daniel Parker, owner of Parker Photography & Video
"A real focus should be placed on mental wellbeing "
"We have seen just how important mental wellbeing is during the current climate. Whilst the importance of sensible financial decisions cannot be underestimated," advised Patrick Kilbride, Lettings Manager at Maurice Kilbride. "However, I feel many in business place too much emphasis on the bottom line."
Sian Read, Customer Experience Consultant commented: "Take each day as it comes, try to build some structure into your day, get outside when you can, don't set up any weekly zoom quizzes!"
"Using technology shows we are taking safety seriously"
Jon Brierley added: "With buyers and sellers alike having concerns around their household's safety, using technology at the front end in our marketing has ensured we have taken the correct steps in easing these concerns and taking everyone's safety seriously.
In addition, Richard Semedo from Leaders highlighted that virtual valuations and viewings have been the steepest learning curve in lockdown.
Our end note has to be that in spite of everything, the overall sentiment that prevails in the market is one of positivity and seeing silver linings in the proverbial cloud, with Matthew Dabell at Aspire Estate Agents key take out being  "…the resilience of the property market and how Covid-19 has contributed to people's desire for more space."