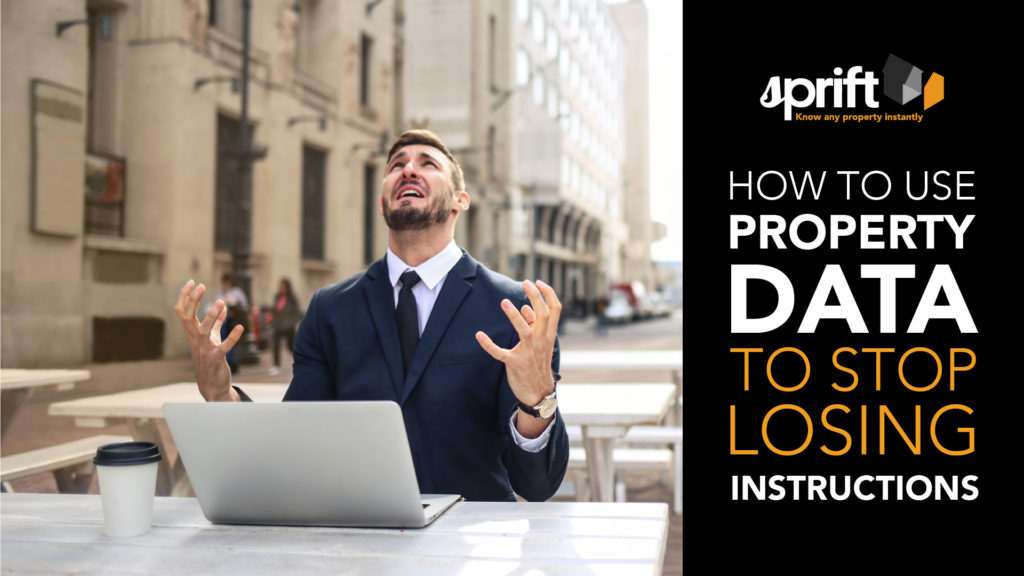 How to Use Property Data To Stop Losing Instructions.
When you lose instructions to your competitors it isn't because they are better than you, they just have access to better data.
With over 27,000 estate agent businesses in the UK, competition is fierce – especially as more and more of your rivals are waking up to the power of property data to transform their business.
According to research carried out by Property Week, 96% of real estate firms believe that investment in PropTech will have a positive impact on revenue over the next five years, and 74% expect to invest specifically in improved property data analytics and forecasting tools – meaning you need to as well if you don't want to get left behind.

(Image source: propertyweek.com)
Until now, it has really only been large companies with big budgets that have been able to process data fast enough to generate insights that lead to more instructions. This is because reliable, accurate, and up-to-date UK property data has been notoriously difficult – and/or expensive – to source, particularly at the local level.
Now, thanks to advances in technology and industry efforts to democratise data access, even smaller real estate firms can access big property data solutions – and stop losing out to the big dogs on the block.
Stop Losing the Local Market
Overwhelmingly, homeowners look for estate agents that can display an in-depth knowledge of their local market and leverage that expertise to get the best price for their property – and they're not interested in those that can't.
In fact, 40% of house sellers cite lack of local knowledge as a major turn-off when choosing an estate agent – that's nearly half of your potential clients gone.
Put simply, if you don't have the data, you don't have the knowledge – and you'll lose out to those that do.
One sure fire way to lose an instruction is when the seller knows more about the local market than you do
If you don't have reliable property and local area data, you're always going to struggle to impress. Sellers are obsessed by the value of their property and will be researching the prices of similar properties in the local area.
So, you need to become the local property guru to feed their interest – which means you need to base your valuations on data, not guesswork.
For example, rather than giving a prospect an estimate of how much value their school catchment area could add to their house, you can use big data tools to analyse property data from every single house sale in that area over the past ten years to reveal how much, precisely, it adds to the value.
And it doesn't stop there. Based on locality, price, property type and time of year listed, you can provide your potential sellers with an average time to sell that's backed up by solid data – rather than an estimate based only on experience or gut feelings.
Moreover you can use data from past sales in the local area to predict how close to the asking price the final offer will be. You can also pinpoint the asking price likely to yield the most offers – and therefore the most competition.
To a seller, this depth of knowledge is invaluable – and it's also reassuring. Overvaluation is a known problem in the industry and being able to back up any pricing estimates with reliable data is essential in gaining a seller's trust – for when you lose trust, you lose clients. It's as simple as that.
Stop Flying Blind with Your Marketing
In a competitive local market, it can be tough to stand out, particularly if you're a small firm.
If you don't get your business noticed, you'll always be on the losing side.
So, don't wait for those with property for sale to contact you. Reach out and make data-driven insights central to your marketing strategy.
There are two key areas you should look at here:
Targeting
Patterns in the local market revealed by data analytics can show you where the hottest areas of town are in terms of buyer demand.
If you know that prices are surging in one neighbourhood, or that there has been a recent uptick in second-time sales on a newly-built estate, that's where you want your sale boards planted – and you can prioritise your marketing strategy accordingly.
And given that 50% of house sellers admit to only receiving one valuation before listing their property, you need to identify these areas ahead of the competition – else it will be your rivals they list with, not you.
Marketing Content
The first rule of dating is to show interest in your partner – not talk about yourself all night. The same holds true with your marketing. No one cares about the awards you've won, the number of branches you have, or how long your firm has been in business. Focus on these things and you're being dumped by text before the second date.
Instead, focus on what matters to your prospects. For example, if a couple with a young family is looking to move in the next two years, data-driven information – about how their house price has been affected by a recent Ofsted report, for instance, or plans to build a new leisure complex nearby – will grab their attention because they can factor these insights into their decision about when to move.
It's all about branding yourself as a knowledgeable, well-regarded, local business. Do that, and you build the trust you need to stop losing instructions.
Show Me the Data
Sprift is revolutionising access to UK property data, providing agents with a range of reports to help you stop losing business to rivals. Access your Free 30-day Trial today.