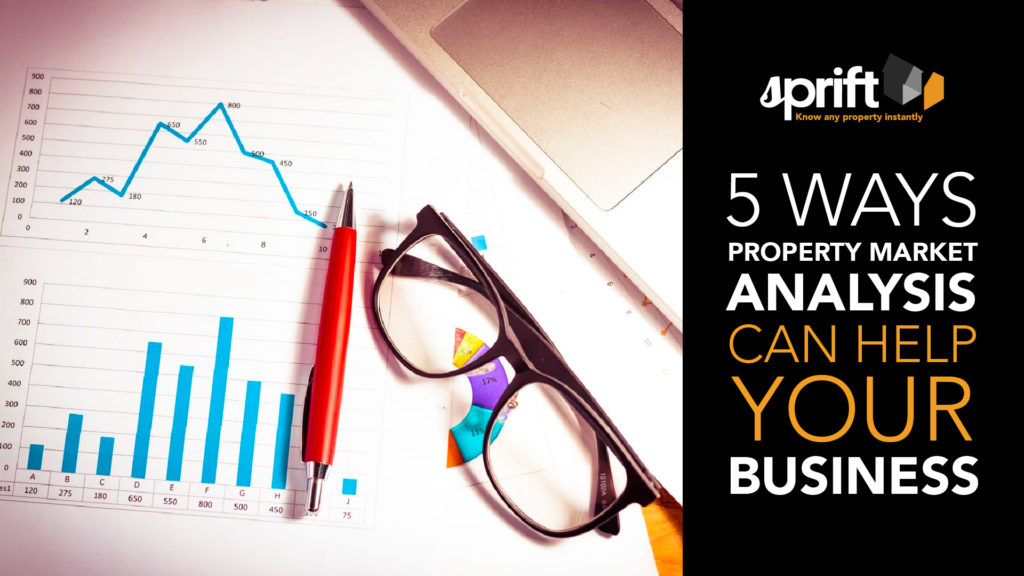 5 Ways Property Market Analysis Can Help Your Business.
If you're not using big data PropTech tools to inform your property market analysis, be warned – more and more of your competitors are.
A recent survey by Property Week found 74% of real estate firms expect to invest in improved data analytics and forecasting tools over the next five years.
Why? Because big data gives firms the edge – the edge over firms with limited data access. And there are still plenty of those.
Big property data is that which is being produced in near real time, and too voluminous for traditional spreadsheet models to interpret. It combines traditional real estate data (property size, location, amenities, etc.) with alternative or non-traditional data – social media activity, planning application histories, TripAdvisor reviews for the local neighbourhood, phone mast location data, etc., etc., etc.
However, as revealed in PropTech 2020: The Future of Real Estate, 60% of firms still use spreadsheets as their primary tool for reporting, 51% for valuation and cash flow analysis and 45% for forecasting. This, as author Professor Andrew Baum at Saïd Business School, Oxford University, puts it, "impedes access to big data." And those with impeded access to big data will soon be left behind.
From the report, we can see that property data analytics companies have attracted more investor money than all other PropTech sub-industries – rising to $3.3 billion in 2019, a year in which the vast majority of other PropTech types saw a drop in investment.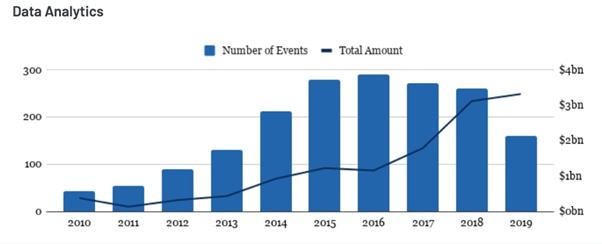 (Image source: sbs.ox.ac.uk)
This should come as no surprise – data analytics is the most valuable and potentially impactful area of real estate's digital transformation. Not only is it the fuel that allows other technologies to function, it also gives firms the transparency and insights they need to improve business performance, and make better informed, less risky and more profitable decisions.
Of all other PropTech sub-sectors, property data analytics solutions are also the first to have moved beyond the hype and are witnessing increasing adoption (hence investor enthusiasm).
"We can see that, using levels of funding as a proxy for market hype, those technologies used in data analytics have transitioned through the full cycle and will likely be the first PropTech solutions to be widely adopted by the real estate industry," writes Baum. "We conclude that the most important property technologies in the current PropTech market are those which produce digital data and generate value from it."
(Image source: sbs.ox.ac.uk)
If you're not amongst the early adopters of big data tools for property market analysis, you're already playing catchup.
Advanced tools that democratise access to UK property data are now readily available on the market. The competitive edge is yours for the taking – unless you let everyone else take it first.
Here are the key areas where you can use property market analysis to stand out.
Property Market Analysis for Local Market Mastery
If you don't want to lose instructions to competitors, an in-depth knowledge of the local property market is essential.
According to research from EstateAgent4Me, 40% of people cite a lack of local knowledge as one of the biggest turn-offs when looking for estate agents. Which estate agents lack knowledge? Those with limited data access.
Firms with access to high quality local market and individual property data, on the other hand, are dressed to impress. These are the firms that can tell a client precisely how much more, for example, an end-of-terrace house is worth compared to its mid-terrace counterparts; who can quantify the premium parents are prepared to pay to be in the catchment area of a school with a good Ofsted rating; who can put a precise figure on the extra value their south-facing garden adds to the property.
While you're left scratching your head, these firms are crunching the numbers. And with these numbers, they can predict with incredible accuracy how much a house will sell for in certain postcodes, how much its value will increase over time, how long it will take to sell, and how much specific features add to the asking price – and all at the local market level.
Property Market Analysis for Gaining Seller Trust
It's no secret that the general public have a hard time trusting estate agents (the latest MORI poll shows it is one of the five least-trusted professions in the UK).
Part of this, of course, is due to the issue of some agents overvaluing properties to win more instructions. Whilst, just like in any industry, there will always be a few bad apples employing dubious tactics, some of the problem has undoubtedly stemmed from a lack of readily accessible data for estate agents to base their valuations on.
Now, however, there is no such excuse – up-to-the-minute property and local market data is yours to use to provide realistic estimates to potential clients.
Today, anyone still relying on gut feelings and guesswork has only themselves to blame for eroding seller trust. The data is there to demonstrate to potential sellers that your valuation is backed up by, for example, a neighbourhood price increase of 3% year-on-year, or a £55,000 house price premium based on a school's catchment area. All you've got to do is access it and get it in front of prospects before your competitors do.
Being able to provide potential sellers with a well-researched valuation, informed by facts and hard data, demonstrates your trustworthiness as an agent and will ultimately help you stop losing instructions to the competition.
Property Market Analysis for Tracking the Competition
How are you performing against the competition in terms of listings, new instructions and sales agreed? Your data-equipped competitors know how you're doing – and are using these insights to inform targeting strategies.
They know that X% of your properties fail to sell within their initial listing period – and are poised to pounce when those periods expire.
If you can't do the same, it's a one-horse race, for sure.
The good news is you don't need to pore over Excel sheets of listings, sales, and spend a depressing number of hours on the phone to HM Land Registry to get the data you need. Instead, you can hop on your own steed and use big data analytics platforms to access property records faster than ever.
Now you're in the race. You too can keep a close eye on competitor listings, ready to jump in with personalised marketing materials when periods expire – rather than allowing the competition another crack at the whip completely unchallenged.
Property Market Analysis for Marketing
When building brand awareness among potential sellers, without local, accurate, up-to-date property data, you can't craft marketing materials that make you stand out from the crowd. Don't be the agency that brags about the number of branches you have, how long you've been in business, or the awards you've won. No one cares. Instead, focus on what matters to prospects – their property and the state of the market.
With reliable property and local market data, you can produce reports, newsletters, host seminars and webinars and establish yourself as the go-to expert in your area, able to give accurate estimations of a home's worth and how long it will take to sell.
The objective is to establish your estate agency as the number one provider of quality and accurate market trends – not the agency that gets off on blowing its own trumpet, or the one that simply tells potential sellers what they want to hear only to let them down time and time again.
Remember, you're competing in increasingly data-driven terms – and those with the best data will win the battle for mind- and ultimately wallet-share.
Property Market Analysis for Self-Improvement
The best estate agents know they can always perform better – and constantly strive to do so. They compete against themselves as much as others, continuously setting quantifiable goals and measuring progress towards them.
You need to match this commitment to success – and big property data allows you to do it.
There's a broad scope for how you can use property data internally, particularly around monitoring your performance against the local market. Look at, for example:
Your time to sell versus the local average
Whether your offers are typically above or below asking price and whether this matches up with local trends
The percentage of properties you have to relist compared to your competitors
If you're falling short, take appropriate measures – a new tech implementation, for example, or a change in buyer targeting – monitor their success, analyse results, and then optimise the strategy (and repeat, repeat, repeat).
Maximise Your Potential with the Sprift Database
To implement a data-led approach in your estate agency, you need a tool that makes UK property data accessible and can crunch huge data sets into usable information for your agents.
You need Sprift.
At Sprift, it is our sole mission to create a single source of truth for UK property data – the only place where the data you need to make accurate, timely decisions is presented in a simple, easy-to-digest format.
At Sprift, we source, amalgamate and analyse the data you need, so you don't have to.
Sprift provides your estate agency with a single access point for all property data in the UK. We process data from every single property sale in the UK into useful, user-friendly reports your agency can use to gauge the competition, win more instructions and sell faster.
Reports available include:
Sprift dashboard: Your online dashboard
Key Facts for Buyers: Find buyers faster
Market Appraisal Report: The instruction winner
Sprift Insider Data: Contains all your property data sets, exclusive to Sprift
Bespoke data Report: Includes competitor analysis, market analysis and listings analysis with full addresses
The great news is that you can try all this out at no cost with a free two-week trial. See how property market analysis could transform your agency today.
Sign up for your free trial of Sprift, or get in touch for more information.