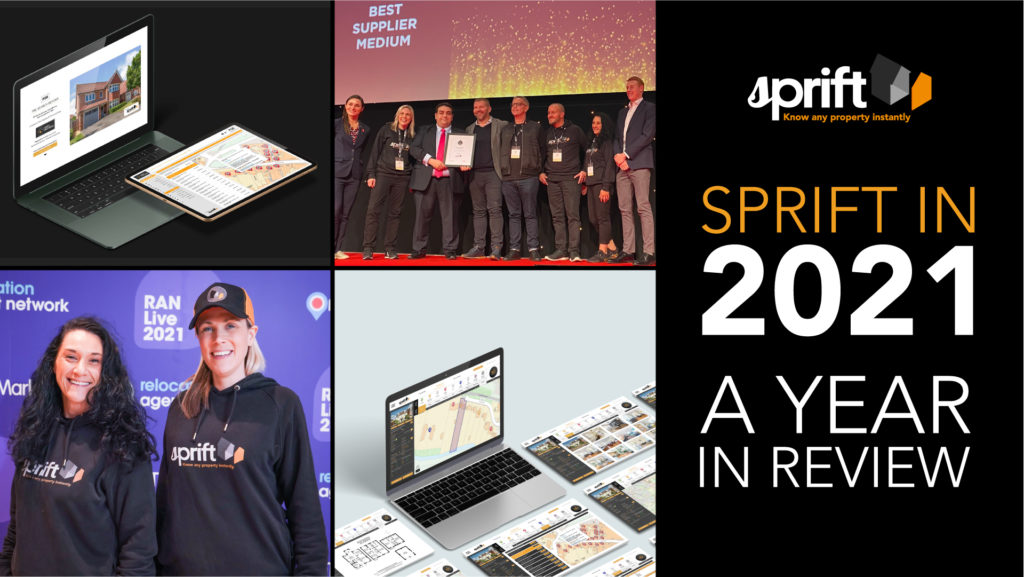 A Year in Review – 2021
What a year 2021 was when it came to innovations at Sprift! Our team really pulled together to ensure that our data was working as hard as it possibly could.
We pride ourselves on listening closely to our clients and acting on their feedback. That's because we know that the better the service and data we can deliver, the better the industry can work together to create a smoother home buying and selling process.
Below are just some of the highlights of the last 12 months. If you thought 2021 was a good year for innovations, then just wait until you hear about all we have in store for 2022!
January 2021
Sprift's shared reports went interactive. A first for the industry and a steadfast tool for keeping agents ahead of the competition.
Sprift launches interactive property reports
February 2021
Sprift and Acaboom joined forces to create an attractive marketing tool incorporating unrivalled data.
Agency demand sees Sprift and Acaboom join forces
The ground-breaking functionality of Interactive Property Reports expanded into Lettings Intelligence with the release of Key Facts for Landlords, as well as Key Facts for Tenants, Microsite reports.
Sprift launches game-changing lettings tool
March 2021
The Share Dashboard functionality went live. With the launch of this tool, agents could build powerful partnerships by sharing dashboard access with their partners in the buying/selling process.
New tool allows information to be shared instantly with all parties
April 2021
Sprift and Dezrez united to take CRM one step further. We announced our integration with Dezrez, the cloud-based, API-driven estate agent software for sales and lettings agents. This was the first time this level of data had been available to be appended to property records in CRM.
Dezrez and Sprift unite to take CRM one step further
May 2021
Matt Gilpin CEO and founder of Sprift was featured in the Raconteur, 'The Future of PropTech' report, distributed in the Times. The Q&A covered how he set to improve access to property data and how Sprift helped Estate Agents.
Exclusive Q&A with Sprift founder Matt Gilpin featured in Raconteur proptech report
June 2021
Shared Interactive Property Reports launched – providing the ability for comprehensive upfront property reports to be shared instantly, to all parties in a property transaction via Sprift's online dashboard.
Sprift launches tool to help improve the home buying and selling process
July 2021
Our CEO, Matt Gilpin, was featured in Property Industry Eye discussing upfront information and where it goes from here. It's all about the data!
Upfront information: where does it go from here
August 2021
We interviewed Michelle Gallagher from JDG Estates to hear all about her Sprift data journey. Little did we know at the time that her agency would go on to be the overall winner at EA Masters 2021! Great work!
Differentiating with detail
September 2021
The highlight of September was bringing the team together for an afternoon of corporate photography and team building. It was the first time some of the team members had met in person, making it a very memorable occasion.
October 2021
Sprift featured in the trade news again, this time for analysis on the last decade of EPC data, which highlighted poor energy efficiency in 60% of English and Welsh properties.
Almost two-thirds of homes have poor EPC ratings
November 2021
It was great to attend EA Masters this month, to come away with an award, and to receive some fantastic comments about Sprift from Peter Knight, who said:
"Occasionally, make that very occasionally, there's a product or service that can truly be called a game-changer…Sprift is just that."
Sprift delighted to collect award at EA Masters
Sprift for Surveyors launched – offering the most comprehensive range of data ever available to surveyors from official and trusted sources. It combined Sprift's market-leading property-specific data with whole of market comparables.
Sprift launches the most comprehensive data offering for surveyors
December 2021
Sprift was revealed as a TechRound100 winner – an annual competition that celebrates the most successful and innovative startups in the UK. With tech at the heart of what we do, this was a great way to end the year.
Sprift revealed as TechRound100 winner